Next Wave of Entrepreneurs Arrives at HHS to Help Tackle Major Healthcare Challenges
Press Release | US Department and Health and Human Services (HHS) |
November 13, 2014
Today, Bryan Sivak, U.S. Department and Health and Human Services Chief Technology Officer, announced the newest cohort of HHS Entrepreneurs-in-Residence. Part of the Secretary's Initiatives to better serve the American people, the HHS Entrepreneurs-in-Residence program matches HHS employees with external expertise to work on a high risk high reward projects over a 13-month period.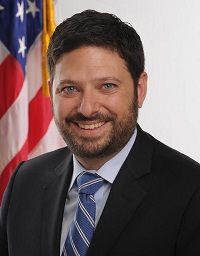 Bryan SivakSelected from amongst the most talented pool of applicants yet, the Entrepreneurs-in-Residence have a diverse experience from co-founding companies – like Mark Scrimshire, who co-founded HealthCa.mp, a consumer-focused health care company, or Danny Boice, who co-founded Speek, a company that is simplifying conference calling and screen sharing – to data science, like Paula Braun, who led a team of data scientists and software engineers to provide analytics and advanced statistical programming for a federal financial regulator agency – to big data and IT development, like David Portnoy who has spent nearly 20 years building innovative big data applications for enterprise clients.
Today's announcement culminates a nearly nine month process in the development of the 3rd Cohort of HHS Entrepreneurs-in-Residence. In February, the HHS IDEA Lab recruited project ideas from HHS Employees and announced the selected projects in May. Projects were selected based on their potential impact and use of innovative solutions to overcome barriers to progress. From there, we called on the entrepreneurs of America to serve their country and work in government to take on problems like the modernization of data bases, to analyzing the use of social media with the aging and disability population.
Together, each project team – consisting of HHS employees and an Entrepreneur-in-Residence will work for a 12 month period to solve an identified problem, employ the use of startup methodologies, like agile development, lean startup, and design thinking, and contribute to the HHS IDEA Lab's goal of change the culture of the Department.
Full project descriptions and bios can be found below.
Improving Beneficiary Access to Health Information
Project Description: The Centers for Medicare & Medicaid Services (CMS) want to redesign the CMS Blue Button to enable it as a Data-as-a-Service platform to empower patients and enable the use of the data with third party applications. Read more >>
HHS Lead: Niall Brennan
Entrepreneur-in-Residence: Mark Scrimshire
About Mark: Mark is a lifelong IT ninja and data guru who has led teams in high technology industries from healthcare to telecommunications and software. Prior to joining CMS, Mark co-founded Medyear where, as CTO, he played a lead role in developing the first Consumer-Mediated Exchange built on BlueButton Plus, Direct and Big Data technologies. Previously, Mark led the cloud-platform initiative for 3M Health Information Systems, implementing a cloud-based big data platform to support ICD-10 Computer-Assisted Coding. Before that he served as Internet Channel Strategist for CareFirst BlueCross BlueShield. While at CareFirst, Mark established the HealthCa.mp Foundation, an organization that runs international "un-conferences" to promote both consumer engagement in health care systems design and the adoption of modern web technologies to solve our health care challenges.
Digital Media, Aging, and Disability: What Works & Why
Project Description: The Administration for Community Living (ACL) wants to explore how the aging and disability communities are using technology and new media to learn about and manage services. Read more >>
HHS Leads: Jason Bennett, Scott Cory
Entrepreneur-in-Residence: Danny Boice
About Danny: Danny Boice, a through and through entrepreneur and Lean Startup disciple, co-founded Speek in 2012 and ran product, tech and marketing for the funded startup. Speek is a venture funded startup which allows millions of users to do conference calls without annoying phone numbers and PINs. Danny attended Harvard undergrad, is a Forbes columnist, Adjunct Professor at Georgetown, a Tech Titan by Washingtonian Magazine, and has been published in numerous major publications.
Danny previously served as an Executive for The College Board. Danny's responsibilities included launching new products and driving technology innovation in the arena's of web, mobile, social and other cutting edge digital domains across all of these programs and constituents.
Prior to working at The College Board, Danny served as the Chief Technology Officer for CommuniClique where he led the development of their cloud-based product while establishing and growing their Open API / Developer Community. He also served as Vice President at Pantheon leading several high visibility web and mobile product development projects for Fortune 500 clients. Boice joined Pantheon in 2006 when they acquired Jaxara – a company he founded in 2002.
Modernizing CDC Mortality Data & Analytic Tools
Project Description: The Centers for Disease Control and Prevention (CDC) is undertaking a project to create the next generation Electronic Death Registration System (EDRS) to obtain more timely mortality data and provide tools for meaningful analysis of these data. Read more >>
HHS Lead: Brian A. Lee
Entrepreneur-in-Residence: Paula Braun
About Paula: Paula, a Data Scientist with Elder Research, Inc, where she lead a team of Data Scientists and Software Engineers to help federal regulators identify risks in financial markets using data mining and advanced analytics. Paula began her career as a Presidential Management Fellow with the CDC and went on to work as an analyst at the Government Accountability Office. With a strong commitment to public service and a desire to broaden her experience, Paula deployed to Iraq and Afghanistan to audit wartime spending with the Special Inspector General for Iraq Reconstruction and the Special Inspector General for Afghanistan Reconstruction. After two years of living and working in active war zones, Paula returned to graduate school to study data science and predictive analytics. Paula also has taught for Emory University's Executive Masters of Public Health program.
Innovative Design, Development and Linkages of Databases
Project Description: As the largest funder of biomedical research in the world, U.S. Department of Health and Human Services (HHS) directly and indirectly generates massive amounts of scientific data through research, grants, and contracts. The HHS Office of the Chief Information Officer and the HHS IDEA Lab want to build an innovative strategy to design, develop and link public-facing research database applications for the HHS. Read more >>
HHS Leads: Damon Davis and Keith Tucker
Entrepreneur-in-Residence: David Portnoy
About David: A seasoned big data entrepreneur and startup shepherd, David has been developing applications for enterprise clients and helping startups get their data driven technology products to market. Most recently, David built a first of its kind transaction based marketplace for medical services for Symbiosis Health, a Blueprint Health backed startup. Prior to Symbiosis, he created a technical product roadmap for the nation's largest claims data repository for BlueCross, designed automation of healthcare economics reporting for WellPoint, and applied agile methods to build big data systems for enterprises like IBM, Sears and Office Depot. David started his career at AT&T, where he implemented large scale enterprise systems and data warehouses for some of the world's largest call centers. He continues to mentor health technology startups in Chicago, as well as companies accepted to the HealthBox accelerator. David has degrees in Computer Science and Electrical Engineering and an MBA from Washington University in St. Louis.
About the HHS Entrepreneurs-in-Residence Program
Now in its third cohort, the HHS Entrepreneurs-in-Residence program has been a vehicle for solving problems ranging from the modernization of the organ transplant system, to the improvement of government processes, to increasing the usability of government databases. To date, the HHS Entrepreneurs-in-Residence program has recruited 20 entrepreneurs from the private sector into government to work with HHS employees on a total of 13 projects. For more information about HHS Entrepreneurs, please contact Julie Schneider ([email protected]).
More information on HHS Entrepreneurs-in-Residence can be found at http://www.hhs.gov/idealab/