HHS IDEA Lab Hosting Innovation Day in DC on May 15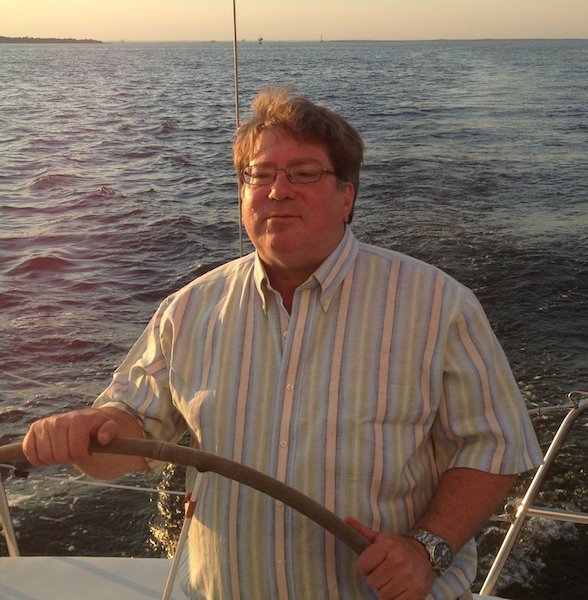 Roger A. MaduroThe Department of Health and Human Services (HHS) is holding an Innovation Day on Monday, May 15th at the Hubert H. Humphrey Building in Washington, D.C. The day will feature presentations from teams across HHS who are using open source, collaborative, and entrepreneurial methods like design thinking and lean startup to improve how their office or agency delivers on the HHS mission. The day will also feature a panel on deploying creative thinking to improve work in government, and innovative speakers from government and the private sector.
The HHS IDEA Lab (a.k.a the Office of the Chief Technology Officer) was created to provide HHS with new, creative ideas and actions that fundamentally alter and improve the way that HHS does business. The IDEA Lab promotes the use of data, technology, and innovation across HHS to create a more modern and effective government that works to improve the health of the nation. IDEA Lab initiatives are designed to empower internal innovation, leverage external talent and creativity, and build collaborative communities to tackle cross-cutting issues of strategic importance.
The IDEA Lab offers the space (both in terms of a physical location and opportunity) that allows individuals within and outside government the freedom to play, ideate, and experiment in pursuit of improving the health of all Americans.
To register for the event see here. For more details on the event, read this post.
HHS Innovation Day - May 15, 2017
Agenda
9am – 12pm (In-person or watch the livestream)
9:00am-9:10am Intro for Keynote Speaker, Sanjay Koyani, Acting Executive Director for Innovation, Office of the Chief Technology Officer, U.S. Department of Health and Human Services (HHS)
9:10am-9:25am Opening remarks, John Bardis, Assistant Secretary for Administration, U.S. Department of Health and Human Services (HHS)
9:25am-11:10am Lightning presentations from the current HHS Ignite Accelerator teams (check their projects out below)
11:10am-12:00pm Guest speaker Mickey McManus, MAYA Chairman and Principal. McManus is a pioneer in the field of collaborative innovation and human-centered design
1pm – 3pm (In-Person Only)
1:00pm-2:00pm Design thinking training session led by Dean Chang, Associate Vice President for Innovation & Entrepreneurship, University of Maryland.
2:00 pm – 3:00 pm (In-Person Only) Panel discussion "Envisioning An Innovative HHS" featuring:
Amy Wilson (Moderator), Presidential Innovation Fellow, General Services Administration
Mitra Ahadpour, Director of the Division of Pharmacologic Therapies, Substance Abuse and Mental Health Services Administration
April Oh, Health Scientist at the National Cancer Institute
Adam Wong, Senior Innovation Specialist at the Office of the National Coordinator for Health Information Technology
The Current Ignite Teams
The Ignite Accelerator is a 3 month internal innovation program that provides HHS staff a startup environment to test new ideas. The program provides selected teams methodological coaching and technical guidance within a fast-paced, entrepreneurial framework. The projects of the current round of Ignite teams are listed below. This event will lead to the next round of Ignite projects. Applications for Round 7 of the Ignite Accelerator are open until June 15 (see here).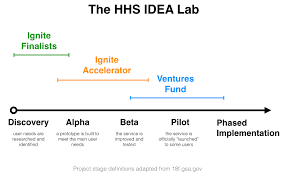 Ignite supports the exploration and testing of ideas that promise to modernize government and improve the Department's ability to carry out its mission. The goal of each Ignite team, during the course of the program, is to validate (or invalidate) the business value of their idea through a series of small but useful tests. The outcome of each Ignite project is usually no more than a low-res prototype or a minimally viable product (MVP) that has gone through some sort of beta-testing with actual end-users, although some projects may go further.
At the end of Ignite, teams pitch to Leadership for continued funding and support. It's up to the team to secure this funding and support for the next phases of their project. A handful of teams might find themselves eligible for to pitch for support from the HHS Ventures Fund, also run out of the IDEA Lab.
The HHS IDEA Lab has partnered with the Academy for Innovation and Entrepreneurship at the University of Maryland and DC I-Corps to carry out the Boot Camp of HHS Ignite. The Academy, a "signature initiative to infuse the University with a culture of innovation and entrepreneurship", brings technical advising and a proven program structure for iterating towards solutions. In addition to having access to the top experts within HHS and the federal government, teams accepted into HHS Ignite will be able to leverage UMD and DC I-Corps staff, resources, and mentorship provided by their network of innovators in the private sector and academia.
What selected teams get with Ignite
Structure and Permission to experiment
Experiential learning of modern management and problem-solving principles
Individualized coaching and mentorship
Access to a community of innovators at HHS
Access to HHS leadership
Current Ignite Teams
Posted May 12, 2017 - 3:01pm by Roger A. Maduro