A Look Inside the 'Blinky Flashy' World of Wearables and Open Hardware
By Nitish Tiwari | October 31, 2016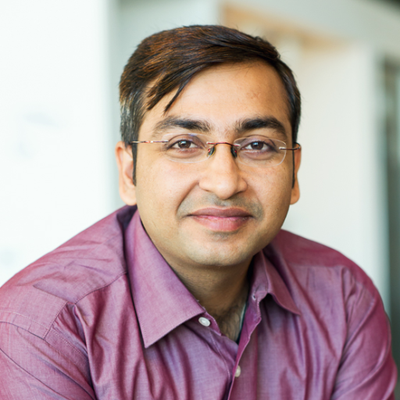 Nitish TiwariWhile looking at the this year's All Things Open event schedule, a talk on wearables and open hardware caught my eye: The world of the blinky flashy. Naturally, I dug deeper to learn what it was all about.
Though Gina Likins and Jen Krieger of Red Hat would like to leave a few surprises for the lucky folks who attend their talk, they told me they can promise at least the following:
ideas about how you can integrate simple circuitry into your outfits to "tron-ify" your wardrobe
ways to add interactivity to art projects (or science projects! or exhibits!) that turn a spectator into a co-creator
ways you can up the ante on your holiday greeting cards (yes, you can make cards that outshine even the fanciest of the store-bought ones)
Q: How much code and circuit design is available openly? How are people using it?
Gina Likins: That's the cool thing—almost all of it is available openly. From an article on Opensource.com:
Companies like Adafruit, Arduino, and Bug Labs sell hardware that anyone can access or modify. (Think RadioShack on steroids.) Those components are then used by impassioned creators to build anything from laptops to children's toys.
I'd add SparkFun to that list—we've used a lot of SparkFun products in our projects, and they've been sponsoring the hackathon projects that I run to teach the basics of simple circuitry to young women.
As far as how people are using small circuitry and open hardware—the applications run the gamut! The most common ones seem (to me) to be home automation, science instrumentation, music generation, and costuming/fashion.
Jen Krieger (JK): I love how open the code is too. It's remarkably easy to find snippets of code online.
This SparkFun tutorial is the one I started with, and I can't say enough good things about it. There are examples on how to get started with the code, and it links to the Arduino guides on how to get started with their tech as well. I've also appreciated the code snippets that can be found across GitHub. There is a thriving community of folks who love playing with wearable technology, and it makes a lot more fun to see what others are doing. One of my favorite places to get ideas is the Instructables community. There is always something really awesome posted.
Q: How big are wearables? Does it feel like a "club," or is it going more mainstream than that?
Gina Likins: Most of them are pretty tiny—smaller than a quarter usually! Oh, you meant big (Bad joke. So sorry.)
They are not yet at the point where you'd find wearables wear kits at the big box stores, but they're becoming far more mainstream. There are now many places (locally and online) where you can learn. Look for local makerspaces or tech workshops, or search online for wearable tutorials. (Or come to our presentation and we'll send you away with a passel of resource listings!)
Jen Krieger: I think if you look at anyone's wrist lately, you'll see how big wearables are. Anyone with an Apple watch or similar gear has already bought into the idea of it.
However, looking at the impact that technology has had on the craft industry is more interesting to me than what mobile tech people are wearing. For example, the paper crafting industry changed significantly about 10 years ago with the introduction of electronic cutting machines like the Cricut and the Silhouette. In the Silhouette's case, although the software that drives the cutter is proprietary, you can import any .svg file into that software to cut. The design opportunities are endless. I personally love building 3D structures out of paper and lighting them up—I may even be bringing a few of those to show the crowd.
Last year, one of the main paper craft websites sold a kit that included LEDs to light up the cards you could make. It was insanely popular amongst crafters (launching the sale of the kit crashed their website) and inspired me to hold a class to teach others how to light up their projects.
Q: How did each of you get into small circuitry and wearable technology?
Gina Likins: It's almost completely Jen's fault. I had been fascinated for years, even having gone so far as to buy some of the "bits," but hadn't quite made the leap into doing it. (That's not uncommon for me: Get fascinated by a craft, get supplies, and don't actually do it until something sparks me into action.)
In this case, the "spark" was a "crafternoon" that Jen hosted, where, as she mentions above, she led a few of us through the process of making holiday greeting cards that lit up.
I was hooked! Next thing you know, I'm volunteering to co-lead (with Jen) a workshop at Pearl Hacks to teach young women to "hack their hoodies"
Jen Krieger: I've always been a crafter, and I think my enthusiasm for that bubbles over to other people. (Sorry Gina!) I have been accused frequently of enabling folks to collect craft materials that they can't remember what to do with.
As far as how I got into wearables, I was in a store about eight years ago and saw a really cool Halloween haunted house shadow box that was made out of paper. I really wanted to make it and add lights in the windows to make it spookier. I wound up ripping apart battery-operated mini tea lights and gluing them to the back of the paper. It was a sub-optimal way to integrate lighting into a paper project, but it was the only way I knew how. Fast forward eight years, and now they have paper circuits, awesome LED stickers, and conductive paint. My crafting has definitely "leveled up" as technology has advanced.
Q: What are the kids into? What projects do the adults love?
Gina Likins: It seems to be the same things. (Or maybe I'm just an 11-year old at heart.) I think everyone loves things that light up and respond to touch or sound—anyone remember the "touch lamps" or "clap on, clap off"?
I do think there's a special interest for parents when it comes to their kids, as they realize that being able to walk comfortably in the world of technology offers a huge advantage in any career. For parents, the world of small circuits and wearables can be the bridge between play and programming that awakens an interest in tech for a child.
Jen Krieger: Being a Pokemon-Go-playing, glitter-and-glue-using homeowner that likes candy a tad too much, I'm also a kid and an adult. I already provided a ton of links earlier, but what I really like about most of them is the theme of getting your kids involved in the projects—specifically the tutorials at Chibitronics. I know several teachers who love the idea of simple circuitry, but don't yet have the confidence to teach it to their students. The best part about Chibitronics is that they provide classroom-ready tutorials on their website and also sell packs of their circuit stickers designed for a class of 30 students.
A look inside the 'blinky flashy' world of wearables and open hardware was authored by Nitish Tiwari and published in Opensource.com. It is being republished by Open Health News under the terms of the Creative Commons Attribution-ShareAlike 4.0 International License (CC BY-SA 4.0). The original copy of the article can be found here.