Worse Than Ebola: U.S. Not Preparing for the Next Bio-Threat
Maggie Fox | NBC News |
May 1, 2017
The U.S. government is slacking off on preparing for the next big pandemic or biological terrorism attack and is not only endangering its citizens but also missing out on a great opportunity to score political points, experts said Monday. Protecting the United States from the next pandemic of killer flu, or from a bioterrorist strike, is something Republicans and Democrats can easily agree on, a top congressional appropriator told a biodefense panel.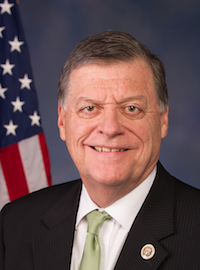 Rep. Tom Cole, R-Oklahoma"This is actually an area where it has been pretty easy to bring Republicans and Democrats together on," said Rep. Tom Cole, R-Oklahoma, chairman of the House Appropriations subcommittee that oversees biomedical research. Yet the money hasn't been there, and no one person or agency is in charge of making sure the United States is ready for the next outbreak of Ebola or Zika or the next anthrax attack, Cole and other experts said at a meeting of the Blue Ribbon Study Panel on Biodefense at the Hudson Institute in Washington, D.C.
"We need some things around here to work on together. There's plenty of things to fight about," Cole said. "Let's get back in the habit of doing the right thing." For at least two decades, infectious disease experts have been urging the U.S. government to do more to keep the country prepared for outbreaks of diseases such as a new strain of flu, Ebola and severe acute respiratory syndrome, or SARS...