openEHR 2020 - International Community Event
DATA FOR LIFE - International community event
Today, healthcare institutions have an increasing need for digital solutions enabling them to provide better care for patients by improving health data management and clinical processes. In recent years, openEHR solutions - with a multivendor ecosystem of applications based on open data - have been addressing the needs of healthcare professionals successfully. Several cases of openEHR approach have shown numerous benefits in practice.
Hosted by Digital Health and taking place on 24 November, 9am - 5pm (GMT), join us to discover the latest developments, insights and best practice openEHR case studies from a variety of international digital health leaders, including renowned speakers such as Robert Wachter, MD, University of California, San Francisco Department of Medicine Chair and author of The Digital Doctor: Hope, Hype, and Harm at the Dawn of Medicine's Computer Age book, Mike Jones, VP, Gartner Group, CIO Advisory Healthcare, Aloha McBride, EY Global Health Leader, and many more.
Healthcare professionals, representatives of public health institutions and digital health industry representatives will share their experience, opportunities, new ideas and vision of future development of the openEHR approach.

Don't miss the opportunity to participate in openEHR 2020 Digital Event

The openEHR International is an independent, non-profit foundation, facilitating the sharing of health records by consumers and clinicians via open specifications, clinical models and open platform implementations.

OpenEHR is the name of a technology for e-health, consisting of open specifications, clinical models and software that can be used to create standards, and build information and interoperability solutions for healthcare. The various artefacts of openEHR are produced by the openEHR community and managed by the openEHR Foundation, an international non-profit organisation established in the year 2003.
Speakers
Robert M. Wachter, MD, University of California, Chair of the Department of Medicine at the University of California, San Francisco and author of The Digital Doctor (keynote)
Mike Jones, VP Gartner Group, CIO Advisory Healthcare (keynote)
Aloha McBride, EY Global Health Leader (keynote)
Rachel Dunscombe, CEO, NHS Digital Academy
Prof. George Crooks OBE, CEO, DHI Scotland
Tomaž Gornik, CEO, Better, Co-chair openEHR Foundation
Jon Hoeksma, Editor in Chief, Digital Health (chair)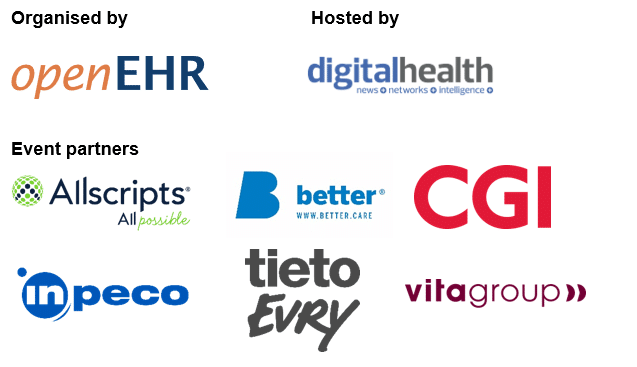 For any questions about this event, please contact Neil at Neil@digitalhealth.net or Lauren at Laurenh@digitalhealth.net.
Hear from experts that have already implemented openEHR, who will share their successes and challenges so that you can learn from and implement in your projects.
Get updated about the latest progress in openEHR developments and trends from different technology vendors from across the globe.
Participate in Q&A sessions, engage in in-app networking between all attendees of the event and discuss on panels.
Location
This event will take place on a virtual platform.
Once you registered online, you will be sent a bespoke email with your details to access the platform. This will open a couple of days before the event, to allow you to log in and explore its resources ahead of the conference.