CORAnet Solutions, Inc. Launches Certified PHR Applications for Allscripts
Press Release | CORAnet Solutions |
April 28, 2015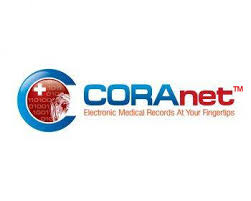 Innovative Applications for Mobility, Interoperability and Personal Health Information Exchange
PRLog - April 28, 2015 - WASHINGTON -- CORAnet Solutions, Inc. announced it has received certification on several innovative applications via the Allscripts Developer Program (ADP) for users of Allscripts Professional EHR™, Allscripts TouchWorks® EHR and Allscripts Sunrise Acute Care™. The applications, CORAVault (ambulatory) and CORALink (emergency), are going to be featured in a webinar on April 30th. The webinar, which will start at 12:00 PM ET, can be joined here.
http://cp.mcafee.com/d/5fHCN0edEI9CzBdVNAQsTdTdFTvppKYOev...
CORAnet Solutions' mobile application, CORAVault™, provides access to disparate electronic health records, CCD, CCR, and HL7 files securely from different locations such as hospitals, clinics, pharmacies and physician practices. The CORAnet server consolidates and organizes medical data as a single personal health record (PHR) secured with 256-bit encryption to the patient's smart phone, laptop and/or tablet where medical data are stored and accessible anytime, anywhere – both online and offline.
CORAVault Benefits:
Patient-facing (enables family sharing of medical records)
Interoperable
Mobile
Agnostic as to EHR source
Automatic data download and updates every 24 hours – no manual entry of data
Transfers images such as X-rays, nuclear scans, diagnostic tests and more
With the integration into Allscripts electronic health records platform, CORAVault empowers individuals control and ownership of their personal health records. With its reminder feature for medication and appointment schedules sent to both the patient and caregivers, CORAVault facilitates compliance and engagement in care. It is username and password protected and the system enables sharing of records to providers by email, print or common EHR System. If emailed, the system generates a .pdf encrypted file that can only be opened by the recipient with a system generated password. Users create an account on the CORAnet website which serves as the command and control center where they manage their data such as basic profile, points of contact, and location of their EHR data. Once this is done, they are ready to download the application onto their mobile device.
CORALink™ is the company's lifesaving emergency application. It provides individual patients, access to good care that becomes easier and safer when records can easily be shared. Important information (such as blood type, prescribed drugs and allergies) can be accounted for much more quickly during an emergency. Quick access to records can be lifesaving if an emergency occurs and answers to those questions are critical during the first responder decision making process.
CORALink Benefits:
Speaks for someone unconscious or unable to speak in emergency situations
Provides first responders with immediate access to lifesaving information
Notifies emergency POC thru SMS and email of the occurrence showing the GPS coordinates of the location of emergency
The Office of the National Coordinator of the Health Information Technology through a White House fellow recognized CORAnet as a true Blue Button Connector (http://bluebuttonconnector.healthit.gov/apps/), and Dr. Paul Tibbits, Deputy CIO of the VA recognizes CORAnet as the foundation of the Blue Button. CORAnet has issued patents in the US, China and Canada.
"CORAnet is proud to have our applications be part of the Allscripts Developer Program. We are excited to now offer CORAVault and CORALink to Allscripts Sunrise Acute Care, Professional EHR and TouchWorks EHR clients," said Cora Alisuag, President & CEO of CORAnet Solutions, Inc. "Our goal is to empower individuals and their families true ownership and control of their personal medical records to facilitate compliance and engagement in their care for better quality of life and lower health care costs."
"Allscripts has had open APIs since 2007. The Allscripts Developer Program was developed to speed time from innovation to implementation for our clients," said Stanley Crane, Chief Innovation Officer at Allscripts. "We're excited to partner with CORAnet Solutions to enable our clients to extend coordinated and preventative care from the boundaries of hospitals and health care facilities to the community at large."
More information about CORAVault and CORALink can be found on the Allscripts Application Store (https://store.allscripts.com/our-partners/coranet-solutions).Allscripts users are invited to register for an introductory webinar on April 30, 2015, at 12 Noon EDT.
About CORAnet Solutions, Inc.
A custom health information technology software company that specializes in development and management of personal health information exchanges, health information applications and health information connectivity.
Media contact:
Jonathan Chashper or Leonardo Ceccarelli