Open Source App Takes on Ebola and Mental Health in Liberia
By Paul Jones | February 3, 2016
Paul JonesAngie Nyakoon and Amanda Gbarmo Ndorbor are two outspoken and energetic women who oversee the Mental Health Unit at the Ministry of Health and Social Welfare (MOHSW) in Liberia. Together, they're applying a new open source app called mHero (that was first used to help them deal with the Ebola crisis) to the mental health issues that have arisen in the aftermath of the epidemic due to displacement and abandonment.
For years, Liberia has been suffering from mental health problems so severe that they can lead to suicide brought on from a long running civil war and now the Ebola epidemic. To allow health workers on the ground and at the frontline care for patients, even in the most remote parts of Liberia, Angie and Amanda developed a SMS workflow that help them answer a series of questions about the prevalence of depression and other disorders. This information can also be used by the Ministry of Health and Social Welfare (MOHSW) to help alleviate the problems and find solutions.
The background story of how Angie and Amanda were able to move so quickly and creatively to address this need is based on a repurposed technology called mHero. Before mHero, the Ministry (MOHSW) didn't have access to this kind information because there was no existing health information systems to collect data on mental health indicators.
Now, thanks to Angie and Amanda's good work, they have a start. mHero provides a trusted channel that facilitates two-way communication using SMS and interactive voice response for sending and receiving critical information to and from frontline health workers, in real time.
Smart thinking leads to mHero
Desperate times call for desperate measures. But they also called for quick, agile, reliable, software development—and more importantly, implementing open source principles like those to reuse, remix, remake, extend, and most importantly share.
It was these open source principles, and the strong open source technology commitment of multiple international aid agencies, that helped countries embattled by Ebola, such as Liberia, implement rapid solutions to support frontline health workers.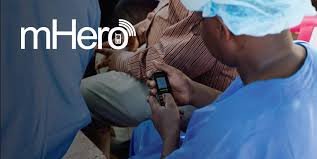 Photo credit - Intrahealth (CC BY-NC-SA 3.0 License)The Ministry of Health and Social Welfare in Liberia already had an understanding of its frontline health workers capacity and ability thanks to the implementation of IntraHealth's iHRIS, a simple, easy-to-use, open source software system that supplies health-sector leaders with information to track, manage, and plan with the health workforce. And thanks to UNICEF's RapidPro, an open source SMS platform that allows anyone to build interactive messaging systems using an easy visual interface, Liberia has been able to reach health workers using basic talk and text mobile phones. The Liberian MOHSW was now able to use a new product, mHero, created during an interoperability hackathon sponsored by Intrahealth and UNICEF. Other participants in mHero development include USAID, K4Health, ThoughtWorks, and Jembi Health Systems.
Principles of digital development and open source
As those of us experienced in open source already know, beginning with the right open source principles to structure your project is essential to making the technology work. But unlike many of the open source projects that scratch the itch of engineers and comfortable offices, the mHero collaboration saved and is saving lives in areas where technology has been difficult to deploy. Let's look first at the Principles of Digital Development.
First, UNICEF and IntraHealth began by building local capacity by working with and involving local people, which supports the goal to design as much as possible with the end-user in mind. This can lead to unforeseen benefits and new ways of grappling with problems in difficult to reach environments. It was also important to keep the work done open for remix, reuse, and redesign.
Still the technology depended, and continues to depend, on networks of engaged frontline health workers who trust and can rely on technologies presented to them. The real mHeroes are not software packages but people on the ground who are both patient and daring to work under harsh conditions while using these technologies to help save lives.
Repurposing mHero for ICT reporting and evaluation
mHero is not just about ministries of health being able to reach out to frontline health workers but also about making the information shareable centrally and locally, as needed. Working in concert with other open source resources, real-time evaluation of frontline results can be gathered, shared, and visualized.
Romain Tohouri, a health management information systems specialist with the ministry of health, was already experienced with the open source DHIS2 software for data management and analytics when he learned about mHero. He needed to do an ICT assessment of the entire country of Liberia in less than 90 days. But getting the information needed for a good assessment of the information and communications technologies in Liberia and then visualizing the national and regional results was difficult. To do such an evaluation in less than 3 months was next to impossible, before mHero.
Using mHero, Romain developed and deployed a series of questions to help understand and evaluate the use of ICT for Ebola response in Liberia, including what worked and what did not, what failed and what succeeded, why some equipment was delivered and some not, what facilities had cellular or Internet connectivity, and more. With this method, Romain was able to meet his deadlines and get accurate information from the right people.
Romain and his team used mHero not just as a tool for gathering information but also as a way to develop an ongoing conversation with health facility managers all over Liberia.
In open source communities, great ideas for new uses, remixes, and improvements come from all over. From sophisticated and specialized users like Angie and Amanda. From someone with technical skills who is engaged directly in the project like Romain. But also from people like you, reading this article and imagining new uses for mHero in other parts of the world.
What are your insights? Tell us in the comments section below.
Thanks to Amanda Puckett BenDor and Emily Nicholson of IntraHealth International for source material on the work of Angie Nyakoon, Amanda Gbarmo Ndorbor, and Romain Tohouri.