Praedico
Praedico is a platform developed by Bitscopic that provides powerful visualization, analytics, and reporting capabilities with a focus on Public Health Biosurveillance and early detection, monitoring, and forecasting of infectious disease outbreaks. Using Big Data and machine learning technologies, Praedico will:
Analyze vast amounts of data across multiple EHR (Electronic Health Records) domains
Detect relevant abnormalities to discover the "unknown unknowns" within the data
Alert users of abnormalities and facilitate the sharing of appropriate data with key decision makers.
Praedico provides an intuitive user interface with the ability to perform ad-hoc analysis tailored to user's projects using custom reports. Praedico users can identify precise search criteria for data from multiple organizational boundaries and view the results using tools that provide insights through statistical, geospatial, and machine learning analysis.
Benefits:
Time and cost savings for healthcare providers: Praedico provides the ability to query data sets with a user-friendly interface without having to write complex queries
Allows the user to query a set of variables and merge as needed
Provides the epidemiologist with answers to complex questions for hospital care
Allows for quality monitoring for medical centers, including reports on antimicrobial stewardship, and the prevalence of HAI (hospital-acquired infections)
Provides visual awareness of infections, including distribution over time and geographic location on maps
Custom alerts of infection outbreak indicators presented in near real-time
Ability to access retrospective data when data is available
Notable Features:
Rapid and efficient integration of new data from disparate sources
Data migration from existing systems to an integrated data mart
Fully customizable multi-faceted algorithmic capabilities
Customizable alerts and alarms filtered by urgency for investigational use
On demand ad hoc data gathering and analysis
FISMA and FedRAMP compliance, including role-based security and auditing
Integrated electronic disease reporting and surveillance system with electronic laboratory reporting (ELR)
Enterprise login with LDAP, Active Directory, and Smart Card authentication support
Big Data support
Production systems in use for analysis of over 3.5 billion records
Scalable architecture, simply add hardware on-the-fly to support more data
Advanced search capabilities with SQL-like query builder wizard
Export data as high-resolution images of maps/graphs/charts or Excel spreadsheets
Multi-level data drill-downs for investigational purposes
Individual Workspace for each user, a sandbox to work with data
Social media heat map (Twitter) integration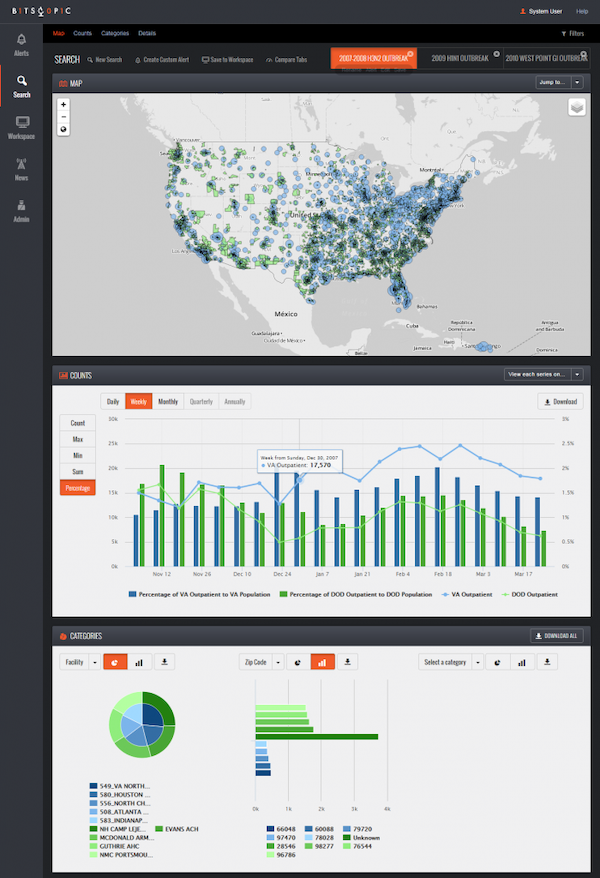 Articles:
Homepage:
Product Brief:
Case Study: