IMS MAXIMS Awarded Place on G-Cloud Framework for Four Consecutive Years
Press Release | IMS MAXIMS |
July 29, 2016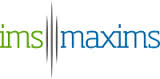 Supplier of the UK's first open source EPR, IMS MAXIMS has been awarded a place on the Crown Commercial Service (CCS) G-Cloud Framework for the fourth year in a row, as successful applicants to the G-Cloud 8 were revealed today.
The G-Cloud 8 Framework is an online services marketplace which public sector organisations, including agencies and arm's length bodies, can use to purchase cloud-based services. It is designed to help buyers compare and easily procure digital services that suit their needs.
IMS MAXIMS has been listed on the G-Cloud 8 Framework in two key categories; 'Software as a Service' and 'Specialist Cloud Services'.
Under the 'Specialist Cloud Services' category, purchasers can access a range of professional services to support an implementation of the company's open source solution, openMAXIMS. These include benefits realisation, configuration, data migration, project management, testing, training and implementation.
The 'Software as a Service (SaaS)' category lists the following services through which NHS organisations can access IMS MAXIMS support and experience:
openMAXIMS™ Support Services
openMAXIMS™ Local Configuration Services
openMAXIMS™ Benefits Realisation Service
openMAXIMS™ Testing
openMAXIMS™ Training
openMAXIMS™ Project Management Service
openMAXIMS™ Data Migration
The news follows similar success for the company in April, when it was awarded a place on the new Digital Outcomes and Specialist Framework (DOS), designed to offer cloud services for DOS digital projects and physical data centre space, for example Crown Hosting.
The G-Cloud 8 Framework builds on previous iterations of the Framework, for example by refining the scope of the Specialist Cloud Services category by specifying a clearer cloud focus. The change follows recognition of suppliers using the lot to place digital specialists in temporary roles.
Commenting on the news, Leesa Ewing, Commercial Director at IMS MAXIMS said:
"It has been an exciting few months at IMS MAXIMS, having recently been appointed to the DOS Framework. We are delighted to have similar success with the G-Cloud 8 Framework.
Our ambition is to make our services accessible and achievable to the public sector, to afford NHS trusts innovative, flexible and clinically driven solutions that will improve patient pathways and lead to better safer, patient care.
Following the publication of 'Strengthening Financial Performance and Accountability in 2016-17' from NHS England & NHS Improvement, there is an expectation for trusts to more closely manage their finances while still improving services. Our appointment to the new Framework enables us to offer a timely and cost effective procurement for customers looking for cloud based services, without the overheads of conventional procurement methods."
About IMS MAXIMS
IMS MAXIMS is a pioneering clinical technology specialist committed to improving the coordination of patient care in healthcare environments.
Its expert team works in partnership with healthcare organisations to identify and deliver tailored, sustainable information sharing technology solutions supporting the provision of safer and more efficient care for current and future generations.
The organisation's 30-year history of collaborating with clinicians has resulted in the development of proven, flexible, user-friendly, safe and interoperable open source electronic patient record software.
With an ambition to meet today's healthcare challenges, IMS MAXIMS makes its software freely available and offers flexible options to support healthcare providers with implementation and maintenance.
Its open technology has increased collaboration in the development of the software which has resulted in better clinical engagement and empowerment across hospital wards and departments.
Deployment times are fast, meaning clinicians and patients can benefit from efficiency and safety improvements in rapid time.