Apple Opens Health Records API to Developers
Press Release | Apple |
June 4, 2018
Apps Empowering Consumers to Manage Medications, Diseases, Nutrition and More Coming This Fall
Today Apple delivered a Health Records API for developers and researchers to create an ecosystem of apps that use health record data to better manage medications, nutrition plans, diagnosed diseases and more. The Health Records feature allows patients of more than 500 hospitals and clinics to access medical information from various institutions organized into one view on their iPhone. For the first time, consumers will be able to share medical records from multiple hospitals with their favorite trusted apps, helping them improve their overall health.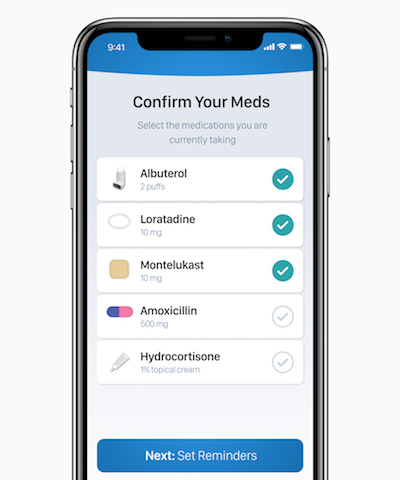 The Medisafe app will integrate with Apple's Health Records API to help consumers keep track of medications and learn about harmful drug-drug interactions."Medical information may be the most important personal information to a consumer, and offering access to Health Records was the first step in empowering them. Now, with the potential of Health Records information paired with HealthKit data, patients are on the path to receiving a holistic view of their health," said Jeff Williams, Apple's chief operating officer. "With the Health Records API open to our incredible community of developers and researchers, consumers can personalize their health needs with the apps they use every day."
Health Records data is encrypted on iPhone and protected with the consumer's iPhone passcode. When consumers choose to share their health record data with trusted apps, the data flows directly from HealthKit to the third-party app and is not sent to Apple's servers.

Developers building health apps can individualize experiences, with the user's permission, based on the user's unique health history across key categories, including:
Medication Tracking: Medisafe, a medication management app, will connect with the Health Records feature so consumers can easily import their prescription list without manual entry, quickly enabling pill reminders and allowing the user to receive relevant medication information. Medisafe will be able to warn patients of problematic drug-drug interactions because they have the comprehensive view of the patient's exact medication list from several hospitals and clinics.
Patients of more than 500 hospitals and clinics can access their medical records in one view.Disease Management: A diabetes app could access a patient's lab results from their Health Records as well as their diet and exercise details through the existing iOS HealthKit integration, allowing for a more complete picture of the consumer and the best ways to encourage them to stay on track.
Nutrition Planning: A healthy eating app could offer consumers tailored programs based on their high blood pressure or cholesterol results by serving up low salt or high fiber meal plans.

Medical Research: With the new Health Records API, doctors can integrate patient medical data into their ResearchKit study apps for a more complete view of their participants' health background. Traditionally, researchers used arduous survey questionnaires to determine pre-existing conditions, which puts the burden on the patient to remember the details. Now, with the participants' approval, researchers can access that patient-specific information to ensure more comprehensive research. This integration continues Apple's commitment to providing the medical community with ResearchKit tools that could further their discoveries.
Press Contacts
Semonti Stephens
Apple
[email protected]
(408) 974-8473
Apple Media Helpline
[email protected]
(408) 974-2042