University of Birmingham
Press Release | University of Birmingham |
March 21, 2017
A study, published in the American Journal of Respiratory and Critical Care Medicine, describes a new treatment pathway for antibiotic resistant bacteria and infectious diseases with benefits for patients and health care providers. Researchers from the University of Birmingham and Newcastle University found that the unusual approach of removing antibodies from the blood stream reduced the effects of chronic infections, the requirement for days spent in hospital and the use of antibiotics...
Zack Budryk | Fierce Healthcare |
May 19, 2016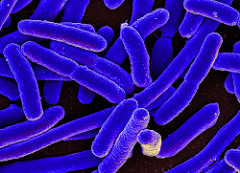 Healthcare experts have long warned drug-resistant superbugs are a "looming global threat," but left unchecked, they may kill someone every three seconds by 2050, according to a new report. The Review on Antimicrobial Resistance began in 2014 and in the meantime, antibiotic-resistant infections have already wrought havoc, causing several outbreaks linked to contaminated scopes and proving potentially more deadly than cancer, according to experts...