tissue engineering
Press Release | Rice University |
July 10, 2017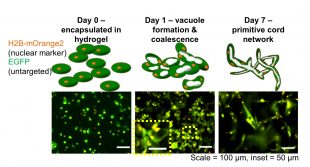 In their work toward 3-D printing transplantable tissues and organs, bioengineers and scientists from Rice University and Baylor College of Medicine have demonstrated a key step on the path to generate implantable tissues with functioning capillaries. In a paper published online in the journal Biomaterials Science, a team from the laboratories of Rice bioengineer Jordan Miller and Baylor College of Medicine biophysicist Mary Dickinson showed how to use a combination of human endothelial cells and mesenchymal stem cells to initiate a process called tubulogenesis that is crucial to the formation of blood-transporting capillaries...
Time Sandle | Digital Journal |
June 30, 2017
The three innovations relate to discoveries in tumor identification in MS patients, open-source prosthetics and jaw replacement surgery. With each 3D printing can deliver precise measurements to medical production facilities saving time critical to patient prognosis. 3D printing (or additive manufacturing) is the process by which digital 3D design data is used to build up a component in layers by depositing material...