physician workflows
Kyle Murphy | EHR Intelligence |
March 28, 2016
With the entire healthcare industry undergoing tremendous amounts of change — from how care is coordinated and delivered to how providers are reimbursed for that care — there are likely to be side effects. One the head of the American Medical Association (AMA) is targeting is the matter of physician burnout tied to providers having to balance the day-to-day realities of patient care with federal and state mandates regulating aspects of that care such physician EHR use and clinical quality reporting...
Press Release | Medal, Inc., HIMSS17 |
February 21, 2017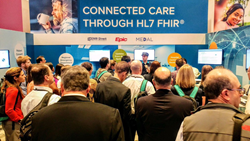 According the the Office of the National Coordinator, roughly 30% of providers have no Health Information Exchange outside of faxing. Medal's innovative technology "meets providers where they are." Medal makes it easy to share data with its product "print to FHIR." Medal software replaces existing fax-based workflows and streamlines health information sharing, creating opportunities to improve health care, reduce effort, and assist research. Medal also connects to existing health information systems such as EMRs and HIEs using FHIR -- "Fast Healthcare Interoperability Resources" -- a quickly emerging standard for health information sharing.
Andy Oram | EMR and HIPAA |
March 16, 2017
I was quite privileged to talk to the leaders of Health 2.0, Dr. Indu Subaiya and Matthew Holt, in the busy days after their announced merger with HIMSS. I was revving to talk to them because the Health 2.0 events I have attended have always been stimulating and challenging. I wanted to make sure that after their incorporation into the HIMSS empire they would continue to push clinicians as well as technologists to re-evaluate their workflows, goals, and philosophies...