medical terminology
Kristian Foden-Vencil | NPR |
October 27, 2014
Translating from one language to another is a tricky business, and when it comes to interpreting between a doctor and patient, the stakes are even higher. Consider the story of 18-year-old baseball player Willie Ramirez. In 1980, Ramirez was taken to a South Florida hospital in a coma, says Helen Eby, a certified medical interpreter in Oregon. "His family apparently used the word 'intoxicado' to talk about this person," she says. "Well, 'intoxicado' in Spanish just means that you ingested something. It could be food; it could be a drug; it could be anything that has made you sick"...
Press Release | Medal, Inc., HIMSS17 |
February 21, 2017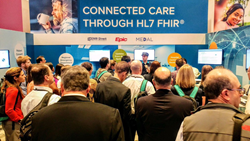 According the the Office of the National Coordinator, roughly 30% of providers have no Health Information Exchange outside of faxing. Medal's innovative technology "meets providers where they are." Medal makes it easy to share data with its product "print to FHIR." Medal software replaces existing fax-based workflows and streamlines health information sharing, creating opportunities to improve health care, reduce effort, and assist research. Medal also connects to existing health information systems such as EMRs and HIEs using FHIR -- "Fast Healthcare Interoperability Resources" -- a quickly emerging standard for health information sharing.