Frederic Lardinois
Frederic Lardinois | TechCrunch |
December 16, 2016
Google is joining the Cloud Foundry Foundation as a Gold member. To be fair, this doesn't necessarily come as a major surprise, especially given that Google recently hired the foundation's former CEO Sam Ramji. Other Cloud Foundry Gold-level members include Accenture, Allstate, CenturyLink, Huawai, Phillips and Verizon. It's worth noting that Google — unlike Cisco, IBM, SAP and others — didn't opt for the highest level of sponsorship (platinum), though...
Frederic Lardinois | Tech Crunch |
June 27, 2016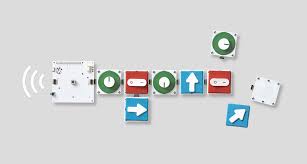 Google today announced Project Bloks, a new open hardware platform that allows developers, designers and educators to build physical programming experiences that can help kids (5+) learn to code. While Google worked together with design firm IDEO to build a reference kit, the idea here is to provide a platform that others can use to build their own devices. Google's team provides the basics of the platform, but the team tells me that it doesn't currently plan to build its own retail version...