electronic medical records
Press Release | Medal, Inc., HIMSS17 |
February 21, 2017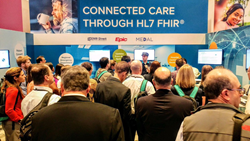 According the the Office of the National Coordinator, roughly 30% of providers have no Health Information Exchange outside of faxing. Medal's innovative technology "meets providers where they are." Medal makes it easy to share data with its product "print to FHIR." Medal software replaces existing fax-based workflows and streamlines health information sharing, creating opportunities to improve health care, reduce effort, and assist research. Medal also connects to existing health information systems such as EMRs and HIEs using FHIR -- "Fast Healthcare Interoperability Resources" -- a quickly emerging standard for health information sharing.
Press Release | Veterans Health Administration |
June 5, 2015
In an effort to provide Veterans with more comprehensive care, VA Pittsburgh Healthcare System can now view electronic patient records with select health care providers across the region, including UPMC, Butler Health System, ACMH Hospital, Excela Health, Heritage Valley Health System, St. Clair Hospital, Washington Health System, and Presbyterian SeniorCare. The long-awaited and milestone connectivity with ClinicalConnect's health information exchange (HIE), improves coordination of care and will reduce unnecessary testing for thousands of western Pennsylvania Veterans receiving care from both VA and non-VA providers.