1918 influenza pandemic
Press Release | Blue Ribbon Study Panel on Biodefense |
February 15, 2018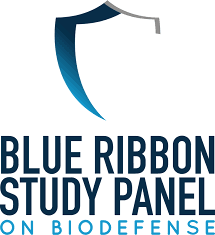 The Blue Ribbon Study Panel on Biodefense announced today a $2.5 million grant from the Open Philanthropy Project. The grant allows the Panel to continue its leadership role in assessing our nation's biodefense, issuing recommendations and advocating for their implementation, and identifying viable avenues for needed change to policy. The grant comes amidst heightened global tensions as North Korea and other regimes seek to develop biological weapons. It also arrives on the 100th anniversary of a catastrophic influenza pandemic that took the lives of millions around the world, a stark reminder of the dangers of biological events.
Press Release | Johns Hopkins Center for Health Security |
May 15, 2018
The outbreak of a moderately contagious and moderately lethal novel pathogen precipitated a catastrophic end to the scenario in Clade X, the day-long pandemic tabletop exercise hosted by the Johns Hopkins Center for Health Security on May 15 in Washington, DC. Clade X simulated a series of National Security Council–convened meetings of 10 US government leaders, played by individuals prominent in the fields of national security or epidemic response. Their dialogue as the scenario unfolded addressed significant uncertainties in current prevention and response capabilities, hamstrung by policy challenges at the federal level.
Lena H. Sun | Washington Post |
May 30, 2018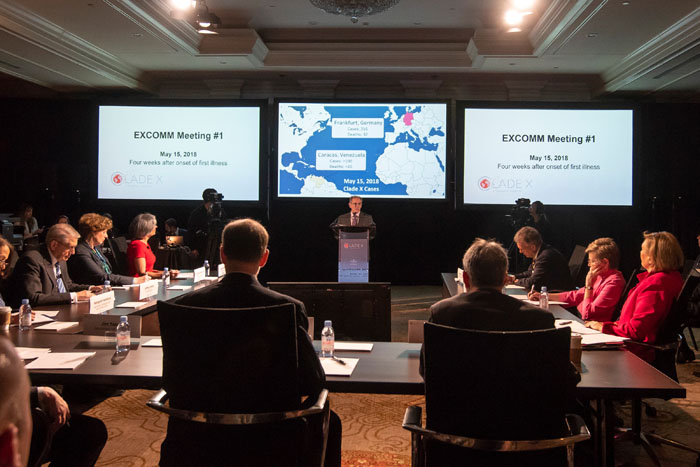 A novel virus, moderately contagious and moderately lethal, has surfaced and is spreading rapidly around the globe. Outbreaks first appear in Frankfurt, Germany, and Caracas, Venezuela. The virus is transmitted person-to-person, primarily by coughing. There are no effective antivirals or vaccines...So began a recent day-long exercise hosted by the Johns Hopkins Center for Health Security. The simulation mixed details of past disasters with fictional elements to force government officials and experts to make the kinds of key decisions they could face in a real pandemic. It was a tense day. The exercise was inspired in part by the troubled response to the Ebola epidemic of 2014, and everyone involved was acutely aware of the very real and ongoing Ebola outbreak spreading in Congo.