Experts support a future Manhattan Project for Biodefense to thwart new threats
Kim Riley | Homeland Preparedness News |
July 12, 2019
An effort similar to the Manhattan Project - in which American-led R&D produced the first nuclear weapons during World War II - is needed now in defense against the growing global threats posed by infectious diseases and bioterrorism, sources said Thursday during a Blue Ribbon Study Panel on Biodefense meeting...witness panelists and attendees at the panel's first public meeting held yesterday in New York City discussed "A Manhattan Project for Biodefense: Taking Biological Threats Off the Table," a proposed national, public-private research and development undertaking that would defend the United States against biological threats.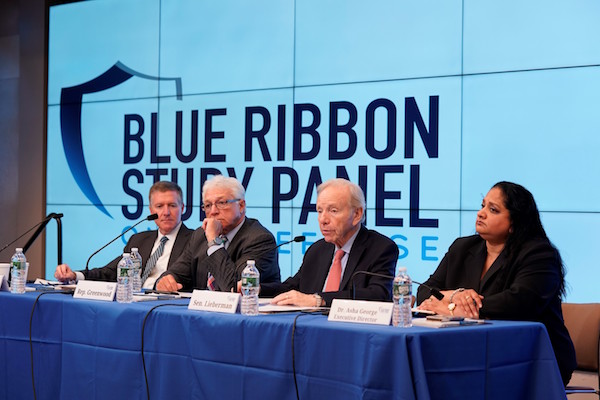 Panel members Ken Wanstein, Jim Greenwood, Joe Lieberman, Asha George"We highly endorse such an endeavor in the sense of it's time to say, 'Go big or go home' on this issue," said Dr. Robert Kadlec, U.S. Assistant Secretary for Preparedness and Response (ASPR) in the U.S. Department of Health and Human Services (HHS), during the second panel...Kadlec said the U.S. is "on the precipice of some very bad things as it relates to the Ebola outbreak" in the Democratic Republic of Congo and challenges also exist regarding other emerging infectious diseases, like the H7 and H9 viruses and the swine flu, to name a few.
Add to the priority list antimicrobial resistance, advanced chemical threats, and the risks associated with synthetic biology and the landscape is ever-changing, Kadlec said. A new Manhattan Project on Biodefense should consider myriad topics, including a definition of needed capabilities to deal with many crisis issues, Kadlec suggested, such as rapid responses to identifying a pathogen or agent and developing diagnostics and potential medical countermeasures (MCMs)...