Precision Medicine, Blue Button Among White House Big Data Efforts
Nathan Boroyan | HealthIT Analytics |
September 30, 2016
A White House fact sheet highlights precision medicine, medical research, and improved patient engagement as "key accomplishments" of the Obama Administration's big data efforts.
Precision medicine, medical research, and improved patient engagement through initiatives like Blue Button are among the highlight achievements of the Obama Administration's emphasis on data transparency and information sharing, says a White House fact sheet celebrating the nation's big data progress. The following is a rundown of some of the specific open-data health efforts of the Obama Administration.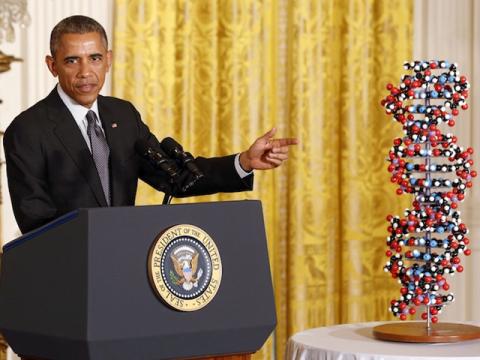 President Obama announcing PMI Jan 2015Launched in 2015, the $200 million PMI is focused on providing personalized treatment and tailored care for patients.Doing so requires cracking the genetic codes that determine how a patient will respond to different therapies, and PMI participants are actively seeking out the electronic health record information, DNA test results, patient-generated health data, and clinical trial information that will enable medical breakthroughs.
At the PMI Summit in February 2016, six prominent EHR vendors announced plans to pilot the use of open, standardized APIs and other methods that allow patients to contribute their own health data to research, including for the PMI Cohort Program. The goal of the cohort program is to create a databank of more than a million patient genomes to lay the groundwork for precision medicine. Initially, genetic profiles will be used for cancer, diabetes, Alzheimer's obesity, mental illness, and heart disease research...