Cybercriminals Hold German Hospitals to Ransom
Charlie Osborne | ZDNet |
February 29, 2016
A number of hospitals in Germany have fallen prey to ransomware, disrupting core healthcare services and internal systems. According to German publication Deutsche Welle, several German hospitals, including the Lukas Hospital in Neuss and the Klinikum Arnsberg hospital in North Rhine-Westphalia have become victims of ransomware...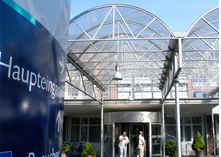 Lukas HospitalThe Lukas Hospital has been forced to pull the plug on everything and go back to phone calls, fax and pen-and-paper records for the past few weeks, where IT systems are still offline. High-risk surgeries have been pushed back until systems are back in order and handwritten notes have been filed. Luckily, Lukas performs regular backups, but unless files are restored, it is likely some data has been lost -- a dangerous idea in the world of healthcare.
Klinikum Arnsberg spokesperson Richard Bornkeßel told the publication they too are ransomware victims, and the malware was able to enter IT systems through an email which contained a virus. A quick response has saved this hospital from vast amounts of damage -- the virus was detected in one server, and immediately the other 199 servers used by the hospital were switched off to prevent the malware spreading...