Man Compares His $42k Prosthetic Hand to a $50 3D Printed Cyborg Beast
Eddie Krassenstein | 3D Print |
April 20, 2015
Over the last several months, some of the more inspiring stories around 3D printing have had to do with the printing of prosthetic devices, particularly hands. From war torn Sudan, where 3D printing is making the lives of hundreds of injured children and young adults easier, to people here in the United States, who are saving significant amounts of money by 3D printing their own prosthetics, these stories certainly are eye openers.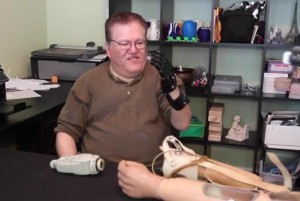 Jose Delgado Jr.Today 3DUniverse did a story about a man named Jose Delgado Jr. Jose was born without a left hand, and in his 53 years on this planet has had first hand experience with the various prosthetic devices available to him. For over a year Jose had been using a $42,000 myoelectric prosthetic device, which took signals from the muscle fibers in his forearm, translated those signal, and then used them to mechanically move the fingers of the prosthetic, which looks pretty close to an actual hand. Luckily his insurance covered the cost of the device, unlike many individual's who are less fortunate.
Jeremy Simon of 3DUniverse.org decided to meet up with Jose, and print him out a Cyborg Beast prosthetic hand. These are the open source 3D printed hands you may have heard about being used in the Robohand project. They have "enabled" over 200 people worldwide, and are very versatile, easy to use, and perhaps most importantly, very affordable. At $50 for materials, you could print out 840 of these before you spent as much money as Jose's myoelectric hand costs...