Praekelt.org Advances Open Mobile Technologies for Connected Health in Africa and Around the World
Press Release | Praekelt.org |
November 17, 2016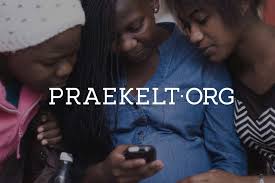 NEW YORK, Nov. 17, 2016 /PRNewswire/ -- Praekelt.org, which works with governments, NGOs and social enterprises to design, develop, and implement open digital technologies for social change, today is announcing a variety of connected health news and milestones that are improving the lives of millions of people across Africa and influencing technology development in the United States and around the world.
Barriers to basic healthcare services and information increase AIDS/HIV and maternal mortality rates in low- and middle-income countries. Open source software and mobile technologies have become increasingly sophisticated over the last five years and are being used by Praekelt.org to innovate in some of the most complex technical environments in order to put health and wellbeing within reach for everyone. This work is on display this fall and winter with a variety of significant milestones and face-to-face collaboration at events in South Africa and the United States.
Connected Health Platforms Bring Together Moms, Nurses and Families in Low- to Middle-Income Countries: HelloMAMA, MomConnect, NurseConnect and FamilyConnect
Praekelt.org is preparing to launch in the coming months HelloMama, a maternal health care platform in Nigeria with the support of USAID and Johnson & Johnson. This is powered by the same technical platform as MomConnect and introduces Interactive Voice Response (IVR) for the first time to address populations with low literacy rates, populations for whom text-based channels like SMS and USSD are inappropriate.
The South Africa Minister of Health today is observing World Prematurity Day, which raises awareness of premature births, with the one millionth pregnant woman who has registered with MomConnect. The South African Department of Health's maternal health platform MomConnect empowers women in South Africa to improve the health and wellbeing of themselves and their children using their own mobile phones. This is the first integrated maternal health platform on the continent. Providing stage-based messaging to mothers in South Africa can help address the high maternal mortality rate in the country. More than 95 percent of clinics in the country participate in the program, which links women to vital information and services. Sponsors of MomConnect include Pepfar, Elma Foundation, Johnson & Johnson and UNICEF. The South African's Department of Health works with a range of technical partners supporting MomConnect, with Praekelt.org leading the development of core pieces of the technology that underpins the platform.
Based on the huge success of MomConnect, the South African Minister of Health today is launching NurseConnect, for which Praekelt.org played a central role in the technological development. The South African Department of Health provides resource and peer support to nurses and midwives who are geographically spread across the country. Through targeted SMS messages and mobile website resources, the platform will improve nurses' health knowledge and support their professional skills development. It will also encourage personal growth and self-improvement and provide inspiration and acknowledgement for work well done.
Praekelt.org will also be introducing FamilyConnect, a family-based maternal health platform in the coming months with the support of UNICEF. Forty-two percent of women in Uganda never go to a clinic during their pregnancy. FamilyConnect allows mothers to sign up in communities through VHTs (Village Health Teams), rather than through nurses in clinics. FamilyConnect is also household based: rather than just registering a mother, it registers a household so that it can send additional health messaging to heads of households.
Events in South Africa and the United States Influence Technology Development for Good
The first-ever bot developer conference in Africa, BotCon, takes place tomorrow, November 18, in Johannesburg and is sponsored by Facebook & Praekelt.org. This is the only event to bring together product designers, developers, and business leaders face-to-face to discuss and advance bot technologies in Africa. By developing a bot for the MomConnect program, Praekelt.org has opened up a way for South Africa's 10 million Facebook users to access health care messaging in a more engaging, cost-effective and sustainable way. With 900 million users, Messenger is one of the most-used chat apps on the planet; more than 11,000 bots have been added since the platform launched in April. Users send 60 billion messages per day using messenger - more than three times the global daily SMS volume.
Praekelt.org's leading development, design, and implementation work for low- and middle-income communities will be shared in workshops and sessions at the Connected Health Conference in Washington, D.C. December 11-14, 2016. With a special focus on maternal health platforms, the talks will share Praekelt.org's innovative work globally, influencing the way NGOs, social enterprises, and government are building for communities around social good. Sessions include a 90-minute interactive workshop titled "A Four-Week Action Plan for Implementing a Digital for RMNCH Program in your Country" and will be led by General Manager, Debbie Rogers. Praekelt.org will also be moderating a panel with Facebook and ActionSprout and speaking on a panel about best practices and use of SMS messaging.
Praekelt's Innovative Technologies Increase Accessibility for All
Integrating the newest, most engaging technologies is critical to the development of these platforms. Praekelt.org's development team is focused on the following:
Chatbot Development. The newest innovation in messaging technology, bots unlock the ability to provide personalized, interactive communication at scale. Praekelt's chatbot for MomConnect, initially unveiled at the 21st International AIDS Conference in Durban just a few months ago, provides MomConnect subscribers with another way to receive messages that will help them stay healthy and prevent the transmission of HIV to their unborn children. MomConnect's new bot will seamlessly integrate into the existing platform, offering Messenger as a more financially affordable method in which mothers can access additional content and services.
Interactive Voice Recognition (IVR). Designed to target communities with low literacy, Praekelt is building this feature into its HelloMama platform launching this November in Nigeria. Nigeria has one of the worst maternal mortality rates in the world. Funded by USAID and Johnson and Johnson, the project partners with Nigeria's Federal Ministry of Health and will pilot in Cross River and Ebonyi state.
Open Source Helpdesk/Case Pro. Building from the work by Nyaruka, a Rwanda-based development team using the open source communications platform RapidPro for UNICEF, Praekelt is developing using Python a HelpDesk function for MomConnect and Family Connect called CasePro. CasePro is a locally-hosted SMS help desk service. SMSs are received from users of systems such as MomConnect and processed by the help desk operator through the CasePro interface. Operators can respond to queries using pre-approved FAQ messages or freeform text and can also open a 'case' to be followed up on in the event that the message is a compliment or complaint.
Gustav Praekelt, founder and CEO of Praekelt.org noted, "When we first created this platform for women, we never dreamed of reaching one million moms so quickly. We are proud to be working with the Department of Health and all its partners that came together to make this happen for South Africa, but more proud of the level of engagement and feedback, and the impact we've had on moms and their babies."
About Praekelt.org
Praekelt.org is a nonprofit organization that designs, builds and implements technologies that empower mobile phone users in low and middle income countries to access information and influence services to improve their lives. Praekelt use open source technologies to deliver essential information and vital services to more than 10 million people in over 40 countries. Originally founded as Praekelt Foundation in 2007, it works with governments, NGOs and social enterprises to provide our users with information, inspiration, education and access to a variety of critical yet basic services.
Media Contact
Jennifer Cloer
reTHINKit PR for Praekelt.org
503-867-2304
[email protected] and/or
[email protected]
SOURCE Praekelt.org
Related Links