BT to Offer Medsphere's OpenVista Electronic Health Record
Press Release | Medsphere, BT |
January 13, 2015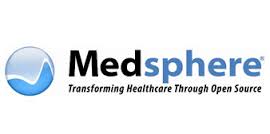 Open source health IT leader and established international IT services provider to promote SaaS open-platform solution

IRVING, Texas & CARLSBAD, Calif.--(BUSINESS WIRE)--Medsphere Systems Corporation and BT have reached an agreement in which they will jointly promote Medsphere's OpenVista® EHR under a software-as-a-service (SaaS) model, relieving hospitals of many costly and burdensome IT responsibilities.
Medsphere, the most experienced developer and implementer of VistA-derived electronic health record (EHR) solutions outside the Department of Veterans Affairs (VA), will work with BT to promote the affordability of Medsphere's business model and the proven nature of OpenVista by making the EHR available as a hosted service. The service will be available in the U.S. and will be based on BT Compute platform using a private cloud model.
"This is a challenging but exciting time to be in American healthcare because there is so much uncertainty and change," said Bas Burger, president of BT in the Americas. "But change means exciting new ideas and opportunities for the best ideas to rise to the top, which is at the heart of our relationship with Medsphere. BT believes secure, hosted solutions and open, accessible platforms provide the best alternative for many hospitals."
As the financial benefits of Meaningful Use wane and hospitals move toward maximizing the use of health IT solutions, it has become clear that interoperability, not just interfacing, is a predominant issue moving forward; so is providing EHRs and other solutions for hospitals with limited resources. In SaaS OpenVista, Medsphere and BT see a solution that satisfies both concerns.
"Medsphere and BT have taken some time to get to know one another, so we know there is a shared ethic of doing what is best for both American healthcare consumers and our respective companies," said Medsphere President and CEO Irv Lichtenwald. "Hospitals are moving away from localized servers and onsite support to reliable remote access. With this relationship, Medsphere and BT are meeting the needs of all hospitals."
Medsphere has proven the effectiveness of VistA outside the VA through successful implementations of the company's OpenVista solution in private and non-federal facilities across the healthcare spectrum. The company also does development work on the VA's VistA system and the VistA-derived Resource and Patient Management System (RPMS) used in Indian Health Service facilities. In total, VistA-based systems enhanced by Medsphere are implemented in more than 400 sites of care across the United States.
With BT's networked communications heritage and strong health experience, the company's vision is to transform the way healthcare is delivered, allowing organizations to save money, integrate information and improve the lives of patients and employees. It is one of the largest providers of healthcare technology in the world and delivers a range of services across the globe, including complex and large infrastructure contracts for new build hospitals, telehealth and telecare provision and electronic health records work.
About BT
BT is one of the world's leading providers of communications services and solutions, serving customers in more than 170 countries. Its principal activities include the provision of networked IT services globally; local, national and international telecommunications services to its customers for use at home, at work and on the move; broadband, TV and internet products and services; and converged fixed/mobile products and services. BT consists principally of five lines of business: BT Global Services, BT Business, BT Consumer, BT Wholesale and Openreach.
For the year ended 31 March 2014, BT Group's reported revenue was £18,287m with reported profit before taxation of £2,312m.
British Telecommunications plc (BT) is a wholly-owned subsidiary of BT Group plc and encompasses virtually all businesses and assets of the BT Group. BT Group plc is listed on stock exchanges in London and New York.
For more information, visit www.btplc.com.
About Medsphere and OpenVista®
Founded in 2002 and based in Carlsbad, Calif., Medsphere Systems Corporation is an award-winning organization of clinical and technology professionals working to make quality health IT solutions accessible to organizations of virtually any size, shape or budget. Medsphere's OpenVista is a portfolio of clinical products and services that leverages an electronic health record (EHR) system developed by the Department of Veterans Affairs. This VistA EHR is widely credited with helping transform the VA into the nation's most efficient and clinically effective healthcare organization. OpenVista, the most fully commercialized VistA offspring, is a responsible reapplication of the VA's $8.5 billion investment, which recent studies show have yielded billions in benefits, primarily from the near elimination of medication administration issues and duplicate testing.
Medsphere's software-as-a-service (SaaS) pricing model enables hospital systems and integrated delivery network customers to pay for OpenVista from their operating budget with no upfront costs or back-end balloon payments. Expert implementation and other services facilitate rapid transition to a paperless clinical environment based on best practices and evidence-based medicine in six to nine months. Medsphere is a founding member of the Open Source Electronic Health Record Alliance (OSEHRA) and actively nurtures the VistA ecosystem, a global community of customers, partners, and other collaborators who drive health IT innovation to the benefit of all.
Learn more about Medsphere at www.medsphere.com.
Contacts
Medsphere Systems
David Macfarlane, 760-692-3751
[email protected]