Blue Ribbon Study Panel on Biodefense Calls for Action to Support SLTT Response to Biological Events
Press Release | Blue Ribbon Study Panel on Biodefense |
October 11, 2018
New Report Recommends Action To Help State, Local, Tribal, And Territorial Governments Prepare For, Respond To, And Recover From Large-Scale Biological Events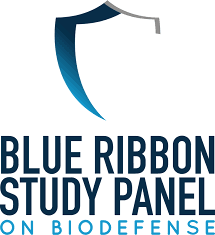 WASHINGTON, D.C. (October 11, 2018) - America's hometown heroes are on the front line when responding to biological incidents. These include health care providers, public health professionals, EMTs, firefighters and police. But a new report from the Blue Ribbon Study Panel on Biodefense says the thousands of first responders at state, local, tribal, and territorial (SLTT) governments that form the backbone of our nation will have to fend for themselves for far too long until federal assets arrive to assist with response. Holding the Line on Biodefense: State, Local, Tribal, and Territorial Reinforcements Needed recommends eight key steps that will increase the capability of the SLTT public and private sectors to share with the federal government the burden of preparing for, responding to, and recovering from large-scale biological events.
"How we respond to biological events - especially those large in scale and impact - is now out of balance with how we prepare," said former Secretary of Health and Human Services Donna Shalala, Panel Member, who co-chaired the January 2018 meeting in Miami that informed many of the report's recommendations. "There are a number of steps we can take right now to better position SLTT governments, as well as hospitals, pharmacies, and other private sector organizations to respond immediately and then in tandem with federal support."
The eight recommendations are:
Unify and establish a new National Emergency Medical Services system, including the creation of a National Emergency Medical Services Agency at the Department of Health and Human Services.
Improve distribution of the Strategic National Stockpile and other stores of pharmaceuticals, equipment, and essential medical supplies, with enhanced training and assured access to pharmacy readiness data.
Layer health care delivery across the nation and plan for when hospitals and other facilities are overwhelmed and overrun.
Authorize all laboratory response networks to test for biological agents.
Allow federally recognized tribes to enter into their own Public Health Emergency Preparedness cooperative agreements with the Centers for Disease Control and Prevention.
Strengthen biosurveillance in, and eliminate burdensome transportation requirements for, the territories.
Allocate response funding before biological crises occur with a credible Public Health Emergency Fund and sufficient assistance under the Stafford Act.
Address public expectations by making biodefense a priority for all elected leaders throughout the nation.
The report features a hypothetical scenario for multiple initially unexplained, probably terrorist, outbreaks of plague occurring in the United States. Former Congressman Jim Greenwood, Panel Member, who co-chaired the Miami meeting, said the recommendations in the report can help to reduce the impact of large-scale biological events on our states, localities, tribes and territories. "Biological threats are real and must be aggressively addressed," said Greenwood. "Elected leaders - including our governors and mayors - need to make this a priority. Rectifying shortfalls in EMS, increasing hospital surge capacity, augmenting laboratory response, and making improvements in other key areas, will enable all levels of government and the private sector to better defend the nation against biological threats and their potentially large-scale consequences."
The full report can be accessed here
About the Blue Ribbon Study Panel on Biodefense
The Blue Ribbon Study Panel on Biodefense was established in 2014 to conduct a comprehensive assessment of the state of U.S. biodefense efforts, and to issue recommendations to foster change. The Panel's 2015 report, A National Blueprint for Biodefense: Leadership and Major Reform Needed to Optimize Efforts, identified capability gaps and recommended changes to U.S. policy and law to strengthen national biodefense while optimizing resource investments. In September 2018, the White House released a National Biodefense Strategy, a top recommendation from the Blueprint. The Panel continues to assess biodefense challenges and to urge reform. Former Senator Joe Lieberman and former Governor Tom Ridge co-chair the Panel, and are joined by former Secretary of Health and Human Services Donna Shalala, former Senate Majority Leader Tom Daschle, former Representative Jim Greenwood, and former Homeland Security Advisor Ken Wainstein. Hudson Institute is the Panel's fiscal sponsor.