Steven Levy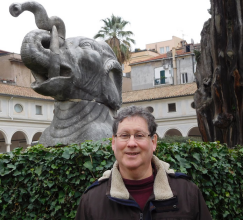 Open source, in myriad forms, has emerged as a significant development model that drives both innovation and technological dispersion. Ignore it at your peril, as did the major computer companies destroyed or totally remade by Linux and free software, or encyclopedia publishers by Wikipedia, or journalists and marketers by social media. The term "open source" was associated first with free software, but it goes far beyond software now. People around the world use open hardware, demand open government, share open data, and--yes--pursue open health. The field of health, in particular, will be transformed by open source principles in software, in research, in consultations and telemedicine, and in the various forms of data sharing all these processes call for.
Adam Rogers | Wired |
June 8, 2017
The new headquarters Apple is building in Cupertino has the absolute best door handles. The greatest! They are, as my colleague Steven Levy writes, precision-milled aluminum rails that attach to glass doors—sliding and swinging alike—with no visible bolts. Everything in this building is the best. The toroid glass of the roof curves scientifically to shed rainwater. And if it never rains again (this being California), well, an arborist selected thousands of drought-tolerant new trees for the 175-acre site...