photopolymerization
Press Release | Transparency Market Research |
September 30, 2013
Transparency Market Research published new "3D Printing in Medical Applications Market - Global Industry Analysis, Size, Share, Growth, Trends and Forecast, 2013 - 2019" market research report to its report store. Browse the report with TOC....
Press Release | Rice University |
July 10, 2017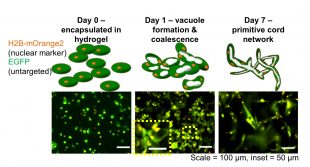 In their work toward 3-D printing transplantable tissues and organs, bioengineers and scientists from Rice University and Baylor College of Medicine have demonstrated a key step on the path to generate implantable tissues with functioning capillaries. In a paper published online in the journal Biomaterials Science, a team from the laboratories of Rice bioengineer Jordan Miller and Baylor College of Medicine biophysicist Mary Dickinson showed how to use a combination of human endothelial cells and mesenchymal stem cells to initiate a process called tubulogenesis that is crucial to the formation of blood-transporting capillaries...