ophthalmology
Press Release | University of Illinois at Chicago |
March 20, 2017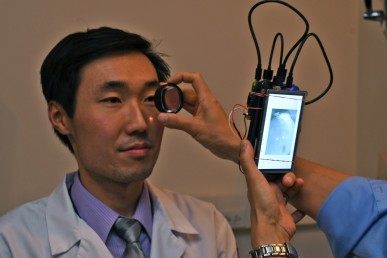 It's the part of the eye exam everyone hates: the pupil-dilating eye drops. The drops work by opening the pupil and preventing the iris from constricting in response to light and are often used for routine examination and photography of the back of the eye. The drops sting, can take up to 30 minutes to work, and cause blurry vision for several hours afterwards, often making them inconvenient for both patient and doctor. Now, researchers at the University of Illinois at Chicago College of Medicine and Massachusetts Eye and Ear/Harvard Medical School have developed a cheap, portable camera that can photograph the retina without the need for pupil-dilating eye drops...
Ben Coxworth | Gizmag |
March 11, 2014
When it comes to thoroughly assessing the condition of someone's eyes, it's usually necessary to utilize large, expensive contraptions such as those found in an ophthalmologist's office. While that's OK in some situations, physicians in rural areas or developing nations might not have access to such technology.
Press Release | Moorfields Eye Hospital, Hicom |
June 23, 2017

Moorfields Eye Hospital has commissioned Hicom, a leading provider of clinical information software, to develop and improve the functionality of OpenEyes, the specialist Electronic Medical Record (EMR) application for ophthalmology. The investment will enable Moorfields to move towards a fully paperless system that will provide clinicians real-time access to patient records across the trust's 32 locations. The first phase of the implementation will be rolled-out in summer 2018...