mobile Internet connection
Anand Chandrasekaran | LinkedIn |
May 26, 2014
Everyone knows India has changed in very obvious ways since the explosion of the technology economy...But what most Indians haven't seen first hand is the revolution that mobile technology is bringing about in the small towns and rural areas of India...
Jack Schofield | ZD Net |
February 29, 2016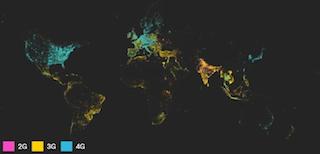 It's around 46 years since consumers first started to use online services, and 23 years since the NCSA Mosaic browser started to popularise the World-Wide Web. But more than half the world's population - around 4.1 billion people - are still not using the Internet, according to Facebook's 56-page State of Connectivity 2015 report. The authors note that "Over the past 10 years, connectivity increased by approximately 200 to 300 million people per year."...