Induced Pluripotent Stem Cells (iPSCs)
Kevin Mayer | GEN |
April 14, 2014
It may sound like science fiction or an attempt to inject novelty into the overworked vampire genre, but the production of artificial blood, on a scale that would rival existing transfusion sources, is being countenanced by researchers eager to exploit stem cell technology.
Press Release | Rice University |
July 10, 2017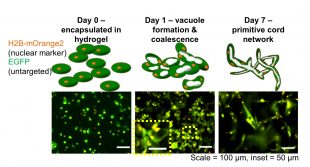 In their work toward 3-D printing transplantable tissues and organs, bioengineers and scientists from Rice University and Baylor College of Medicine have demonstrated a key step on the path to generate implantable tissues with functioning capillaries. In a paper published online in the journal Biomaterials Science, a team from the laboratories of Rice bioengineer Jordan Miller and Baylor College of Medicine biophysicist Mary Dickinson showed how to use a combination of human endothelial cells and mesenchymal stem cells to initiate a process called tubulogenesis that is crucial to the formation of blood-transporting capillaries...