community development model
Press Release | Medsphere |
January 28, 2015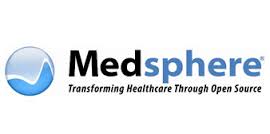 Medsphere Systems Corporation...today introduced OpenVista® Population Health, a Windows-based solution that gives clinicians much greater flexibility in how they provide care for both individual patients and broader patient populations. "The addition of OpenVista Population Health is worth noting particularly because it serves as an example of how development happens in the VistA community," said Medsphere President and CEO Irv Lichtenwald...
Press Release | OpenClinica |
April 10, 2014
OpenClinica, LLC announces the latest version of the most prolific open source electronic data capture platform. The new version (3.2) includes, among other items, performance enhancements, internationalization enhancements, a stack upgrade, and printable subject casebooks with full provenance data.