cloud-based applications
Press Release | OSEHRA |
April 10, 2015
The Open Source Electronic Health Record Alliance (OSEHRA) will return as an exhibitor at the Healthcare Information and Management Society (HIMSS) Annual Conference and Exhibition from Monday, April 13 through Wednesday, April 15, 2015, in Chicago, Illinois...During the three-day conference, OSEHRA will showcase significant achievements at Booth 7530. Attendees will learn of the successes, challenges, and lessons gained from the institutionalization of VistA within VA, the support of the domestic private sector market, and the international implementations of VistA by the UK and Jordan.
Jon Hoeksma | Digital Health |
May 17, 2017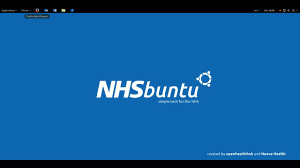 In the wake of Friday's international cyber attacks, which caused widespread disruption across NHS organisations, a small team of developers is recommending the health service reduce its reliance on Microsoft. The NHS almost exclusively uses Microsoft operating systems, some of which – like Windows XP – are no longer officially supported. To demonstrate that there is a licence-free alternative, GP Marcus Baw and technologist Rob Dyke have adapted the open source Linux-based Ubuntu operating system specifically for the NHS...