OpenClinica 2015 Global Conference (OC15)
OpenClinica's Global Conference, or OC15, is a much-anticipated yearly event of networking, knowledge-exchange and innovation held to bring together the OpenClinica community, a group of users, developers, partners, and the team behind the open source electronic data capture (EDC) system with the same name. This year, OC15 will take place in Amsterdam, on May 31 - June 1, promising an exciting array of sessions, workshops and demos to showcase the community's progress and facilitate new friendships and collaborations between organizations using and pushing OpenClinica forward.
Conference submissions are accepted throughout March 13, 2015.
"For the past several years, this conference has been held in the US, but since our European user group has been growing, we wanted to ensure they will have an equal opportunity to benefit from this event," said OpenClinica Co-Founder, Ben Baumann. OC15 will be a two-day event consisting of a day of demos and workshops and another day reserved for sessions. Both days will also feature a series of social events for attendees to have a chance to interact and share expertise.
The OpenClinica community comprises a wide variety of multidisciplinary stakeholders, from clinical informaticians of all stripes, to data managers and software developers. "This year's theme, 'Collaborate. Integrate. Participate,' focuses on how this community combines individual perspectives, experiences, and talents to produce useful innovation that helps make clinical research more effective," said Baumann.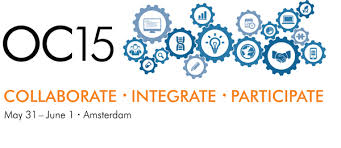 In addition, the conference's theme helps to underscore the growing importance of patient engagement and the changing nature of clinical trials. "A patient-centered approach directs research toward questions that are important to patients so they can make more informed healthcare decisions. Studies need to engage 'Subjects' as 'Participants' — by using technology to meet the 'anytime, anywhere' expectations of a mobile, smartphone enabled world," said OpenClinica CEO Cal Collins.
At OC15 OpenClinica, LLC is also preparing to showcase its upcoming ePRO and patient engagement solution, called OpenClinica Participate. "With a mobile-enabled, real-time solution like OpenClinica Participate, you can provide an engagement channel and fully-integrated data capture experience that is simple, elegant, and easy to use on any device. Leaving you more time to focus on the kinds of human to human engagement that technology cannot do. We are looking forward to demos and discussions that showcase Participate and its underlying open source components at OC15," said Collins.
The 2015 OpenClinica Global Conference (OC15), will take place at the Lloyd Hotel and Cultural Embassy, a historic building in the Eastern Docklands of Amsterdam and an icon of Dutch design. A colorful mix of historic and contemporary architecture, the Lloyd Hotel is a popular destination for hosting unconventional meetings and spirited special functions.Error! Hyperlink reference not valid.Error! Hyperlink reference not valid.
A short report on last year's conference can be found here, and presentations from that conference can be seen in this page. Submissions for sessions, demos and workshops are being accepted throughout March 13. To submit your proposal, contact OpenClinica.
OpenClinica is the world's leading open source platform and community for clinical research data capture and management. There are thousands of OpenClinica implementations at bio-pharmaceutical companies, contract research organizations, academic, and government organizations in over 100 countries. OpenClinica's open source model produces enterprise-quality electronic data capture software that is technically robust, highly accessible, and easily extensible. It is the product of internally- and community-developed open source software and leading, non-proprietary open standards and it is designed to support HIPAA, 21 CFR Part 11, and other regulatory guidelines.