UNESCO Partners With Nature Education And Roche To Launch The World Library Of Science: A Free Online Science Education Resource
Press Release | UNESCO, Nature Education, Roche |
November 7, 2014
UNESCO launched the UNESCO World Library of Science (WLoS), a newly created, free online science education resource for a global community of users. Developed through the joint efforts of UNESCO, Nature Education and Roche, the WLoS was created to give students around the world, especially those in disadvantaged regions, access to the latest science information as well as the opportunity to share their experiences and learning through discussion with their peers in a shared learning environment.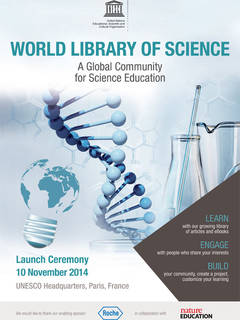 Launched on the occasion of World Science Day for Peace and Development 2014, the WLoS is a science resource library stocked with over 300 top-quality articles, 25 eBooks, and over 70 videos from the publishers of Nature, the most cited scientific journal in the world. It is also a state-of-the-art digital platform that provides a community hub for learning. Users can join classes, build groups and connect with other learners.
Specifically, the WLoS seeks to make science learning accessible to students everywhere in the world by:
Helping equalize learning opportunities. The WLoS is open to all at no cost. It provides students with access to high-quality educational material, regardless of geography or economic circumstances. UNESCO will dedicate special attention to training teachers and students in least developed countries in how to use the WLoS, accelerating science learning in disadvantaged regions.
Improving the quality of teaching and learning. The WLoS supports teachers and students worldwide by giving educators concrete ideas about how to present complex scientific concepts and students resources to fuel and complement their learning. The website provides a searchable database of content that is peer-reviewed.
Strengthening science education. Scientific understanding is the foundation of sustainable development and prepares learners for employment.
Promoting the use of open educational resources. The WLoS content is open. It can be tailored and shared for any educational or non-commercial use. The WLoS is founded on the idea that educational content and scientific knowledge should be free and accessible to all.
Connecting communities of students and teachers. The WLoS is more than just a traditional library: it is a dynamic resource that allows users to collaborate with others, personalize their learning experience, pose and answer questions, and collaborate with others while exploring scientific concepts. The WLoS fosters knowledge-sharing and peer-learning.
"The world needs more science and more scientists to face today's global challenges, " said UNESCO Director-General Irina Bokova. "Achieving this requires better and more accessible science education. The UNESCO World Library of Science is a remarkable and exciting new tool that will help provide it, not only to students, but also to education planners and teachers, wherever they may be."
Mariette DiChristina, Executive Editor, Nature Publishing Group and Editor-in-Chief of Scientific American, added:
"Science is the engine of human prosperity that powers and enables a better future for us all. That is why it is so important to widen access to high-quality information about science and to science teaching, and why we are tremendously proud to be involved in this effort to open up high-quality content from Nature, the world's leading science journal, and other quality sources. As we continue to add to the UNESCO World Library of Science over time, we will help share scientific knowledge and the wonder of discovery with students and teachers all over the world."
Dr. John C. Reed, Head of Roche Pharma Research and Early Development, said:
"As a research-focused company, we are firmly committed to promoting excellence in science across the world. The UNESCO World Library of Science is an excellent platform to enable future generations of scientists, particularly those in disadvantaged regions of the world, to have access to the latest science information and educational resources. This is why we proudly support the project as Enabling Sponsor."
****
Press contact:
Agnes Bardon
UNESCO Media Relations
Tel: +33 1 4568 1764; a.bardon@unesco.org
Notes for Editors:
1. About UNESCO: UNESCO was founded in 1945, in the aftermath of World War Two, to develop the "intellectual and moral solidarity of mankind" as a means of building lasting peace. It strives to build networks among nations that enable this kind of solidarity by: mobilizing for education so that every girl and boy as access to quality education; pursuing scientific cooperation to create knowledge and understanding , and to build sustainable and greener societies; foster intercultural understanding; safeguard cultural heritage; and protect freedom of expression..
For more information about UNESCO's work in the fields of science and education, visit: www.unesco.org/new/en/natural-sciences.of building lasting peace. Its pioneering work has helped change the way people everywhere
2. About World Science Day: Established by UNESCO in 2001, the World Science Day for Peace and Development is celebrated worldwide on 10 November each year. The day offers an opportunity to mobilize various partners to highlight the important role of science in society and to engage the wider public in debates on emerging scientific issues and the relevance of science in their daily lives. The theme for the 2014 World Science Day for Peace and Development is promoting Quality Science Education: ensuring a sustainable future for all.
3. About Nature Education: Nature Education was formed in 2008 with a primary mission of connecting the research and discovery community with science education and innovative publishing strategies. Nature Education publications are written by scientists, and meant to explain research discovery as well as spark curiosity about what we still do not understand. With these publications, Nature Education aims to push the boundaries of science publishing and breathe new life into the global science education landscape. For more information on Nature Education, visit: http://www.nature.com/nature_education. Nature Education is part of Macmillan Science and Education. To find out more visit: www.se.macmillan.com.
4. About Roche: Headquartered in Basel, Switzerland, Roche is a leader in research-focused healthcare with combined strengths in pharmaceuticals and diagnostics. Roche is the world's largest biotech company, with truly differentiated medicines in oncology, immunology, infectious diseases, ophthalmology and neuroscience. Roche is also the world leader in in vitro diagnostics and tissue-based cancer diagnostics, and a frontrunner in diabetes management. Roche's personalised healthcare strategy aims at providing medicines and diagnostics that enable tangible improvements in the health, quality of life and survival of patients. Founded in 1896, Roche has been making important contributions to global health for more than a century. Twenty-four medicines developed by Roche are included in the World Health Organisation Model Lists of Essential Medicines, among them life-saving antibiotics, anti-malarials and chemotherapy. In 2013 the Roche Group employed over 85,000 people worldwide, invested 8.7 billion Swiss francs in R&D and posted sales of 46.8 billion Swiss francs. Genentech, in the United States, is a wholly owned member of the Roche Group. Roche is the majority shareholder in Chugai Pharmaceutical, Japan. For more information, please visit www.roche.com.