spinal cord injuries
Press Release | Duke Neurobiology |
August 12, 2016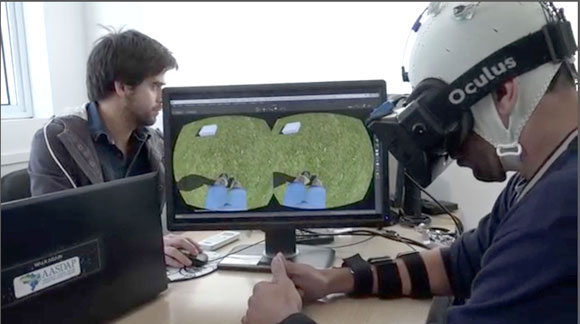 Eight people who have spent years paralyzed from spinal cord injuries have regained partial sensation and muscle control in their lower limbs after training with brain-controlled robotics, according to a study published Aug. 11 in Scientific Reports. The patients used brain-machine interfaces, including a virtual reality system that used their own brain activity to simulate full control of their legs. Videos accompanying the study illustrate their progress. The research -- led by Duke University neuroscientist Miguel Nicolelis, M.D., Ph.D., as part of the Walk Again Project in São Paulo, Brazil -- offers promise for people with spinal cord injury, stroke and other conditions to regain strength, mobility and independence.
Richard Harris | NPR |
August 11, 2016
Scientists with the international scientific collaboration known as the "Walk Again Project" use noninvasive brain-machine interfaces in their efforts to reawaken damaged fibers in the spinal cord. Researchers in Brazil who are trying to help people with spine injuries gain mobility have made a surprising discovery: Injured people doing brain training while interacting with robot-like machines were able to regain some sensation and movement...