Pacific Disaster Center (PDC)
Press Release | Kaazing, Pacific Disaster Center (PDC) |
March 22, 2018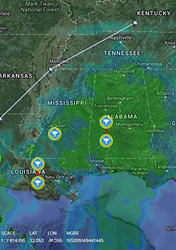 With new records being set each year for natural disaster losses, enterprises face an ever-increasing need to be prepared. For decades, DisasterAWARE has served the needs of top agencies worldwide, including U.S. Department of Defense, Homeland Security FEMA, the United Nations, the Association of Southeast Asian Nations (ASEAN), and a variety of international humanitarian aid organizations. With over 1.7 million users of DisasterAWARE mobile app, Disaster Alert for the public, spanning 115 international organizations, Kaazing is helping to broaden the reach of this critical, life-saving technology to provide businesses with an enterprise-grade solution.
Cheryl Pellerin | Directions Magazine |
July 30, 2014
The Defense Department is using GeoSHAPE tool that will soon be available to assist countries and organizations dealing with the deadly consequences of hurricanes, earthquakes and other disasters and humanitarian crises, experts from DoD. The open-source tool is not directly related to shapefiles; the acronym stands for geospatial tool for security, humanitarian assistance and partnership engagement...