antibiotic resistant infections
Ryan McNeill | Reuters |
September 7, 2016
In 2013, the U.S. Centers for Disease Control and Prevention released estimates of how many people in the country die every year from antibiotic resistant infections: 23,000. The agency estimates that an additional 15,000 die annually from Clostridium difficile, an infection linked to long-term antibiotic use. The estimates, the agency said at the time, provided the "first snapshot of the burden and threats posed by antibiotic-resistant germs having the most impact on human health"...
Zack Budryk | Fierce Healthcare |
May 19, 2016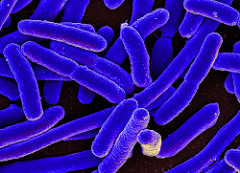 Healthcare experts have long warned drug-resistant superbugs are a "looming global threat," but left unchecked, they may kill someone every three seconds by 2050, according to a new report. The Review on Antimicrobial Resistance began in 2014 and in the meantime, antibiotic-resistant infections have already wrought havoc, causing several outbreaks linked to contaminated scopes and proving potentially more deadly than cancer, according to experts...