HCA Healthcare Can't Hide From Hurricanes With 45 Hospitals In Florida, So It Preps Like It's The Apocalypse
Blake Farmer | Nashville Public Radio |
September 3, 2019
As Hurricane Dorian threatened the Florida coast, top officials at HCA spent Labor Day weekend wringing their hands, pulling all-nighters in a Nashville command center. It almost didn't matter where the storm hits; HCA Healthcare's hospitals were going to be affected. With dozens of hospitals on Florida's east and west coasts, the for-profit hospital chain is exposed every time a hurricane threatens the Sunshine State.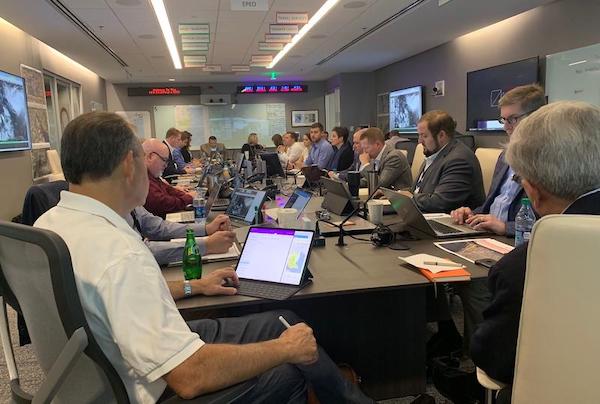 By Sunday, HCA executives and emergency officials would gather twice a day for a conference call with hospital administrators in Florida. Credit - Blake Farmer / WPLNLate last week, the nation's largest hospital company granted WPLN rare access to observe storm preparations as Dorian bore down on the Florida coast. The mood was serious. Chatter was limited. The only sound competing with speakers was the hum of fingers on laptops taking furious notes. Two dozen HCA staffers - representing all parts of the business - found themselves seated at a massive conference table, share twice-a-day updates and hearing from division chiefs in Florida. Radar images on flat screens surrounded them in a basement bunker built in HCA's newest building on its main campus as a forecaster explained a custom "weather intellgence" report.
"The bad news is that this storm is coming at us from an angle that we have not seen in quite some time," HCA national group president Chuck Hall told the room from the head of the table. "We need to think about that as we go into a potentially longer duration storm than what we've probably endured in the past." Division chiefs around Florida ticked off status updates for their 45 hospitals, which stocked up on food, water and diesel fuel to last at least a week. They also topped off their medical gases, pulled together enough supplies to provide dialysis for two weeks and stocked their in-house pharmacies with antivenom - for the poisonous snakes that can out of the swamps during hurricanes...