Epic EHR Implementation Cited in Denver Health CEO's Departure
Kyle Murphy, Ph.D. | EHR Intelligence |
April 1, 2016
Retirement of the hospital's CEO is drawing speculation about several major initiatives at the hospital, including an Epic EHR implementation.
Is the forthcoming retirement of Denver Health CEO a sign of bad things to come for the health system which is set for an Epic EHR go-live in a week's time? Two reports lean well toward the affirmative. On Wednesday, the hospital's CEO Arthur Gonzalez announced his decision to step down from office on June 30.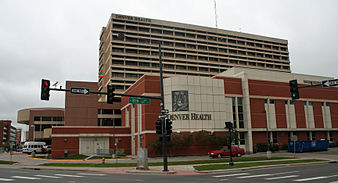 Denver Health (Credit-Wikipedia)"I am proud of all that we have accomplished together during the years I have been at Denver Health, and I am excited for the future of this great organization," he was quoted in The Denver Post. "After 43 years in health care administration, I have been giving a great deal of thought to the right time to retire and decided that now is the time."
That same report refers to the outgoing CEO the "embattled Denver Health chief" and connects his retirement announcement to "a time of strife" following the recent revelation that several neurosurgeons and department heads were submitting letters of resignation. The report ties the turmoil to decisions including reductions to operating-room staff and the handling of relations with the University of Colorado Hospital...