New Jersey
John Breeden II | Next Gov |
September 5, 2017
Unfortunately, we don't yet have technology that can prevent a storm of the magnitude of Hurricane Harvey from devastating our cities and towns. But it can help in the response, and even provide valuable information for citizens trying to survive a catastrophic event. One key is properly locating backup and recovery systems for government agencies. Typically, most cities and towns with a backup plan for their data rely on nearby data centers. That's fine if there is a fire at the local office building or something that forces the temporary closure of government buildings...
Michael Cape | Super North |
March 17, 2016
Everywhere people are, be it out shopping in a supermarket or sitting at home online, they are adding information to their digital footprint – which feeds into what is known as Big Data and so enables them to be traced. The use of Big Data can be beneficial to society, particularly in terms of health – which is why Gary Leeming's job as director of informatics for the Greater Manchester Academic Health Science Network (AHSN) is to source and use the digital health footprints of patients both their for own benefit and that of clinicians...
By Mitch Mirkin | May 27, 2016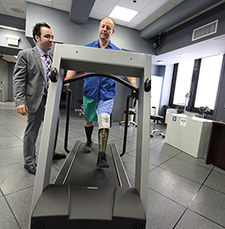 Prosthetics has come a long way—witness the $35,000 computerized knee that sits on a table in Maikos' Gait and Motion Analysis Lab, coupled with a $30,000 bionic foot. The high-tech components are awaiting testing with Veteran amputees who come to the lab. Some have lost a leg to an IED or rocket-propelled grenade in Iraq or Afghanistan—or perhaps to a mine or mortar blast decades ago in Vietnam. Others have lost a foot or leg in an accident, or to diabetes or vascular disease. The purpose of the tests is twofold: to help determine the best prescription for the Veterans, and to gather research data. Along with gait abnormalities, Maikos studies functional outcomes such as walking speed and distance.