multidrug-resistant TB (MDR-TB)
Judy Stone | Forbes |
February 13, 2017
Antibiotic resistance and infectious diseases have long been high on my list of things to worry about, with multi-drug-resistant tuberculosis vying for top honors. In 2015, 10.4 million people became ill with tuberculosis, and 1.8 million died, making TB one of the top causes of death globally. Six countries account for 60% of the cases: China, India, Indonesia, Nigeria, Pakistan and South Africa. As I noted in a previous post, India is critically important to control of drug resistance as well as tuberculosis, as it has the highest TB burden, with 2.2 million infections annually, as well as the largest antibiotic consumption...
Press Release | Stop TB Partnership, Médecins Sans Frontières (MSF) |
December 2, 2015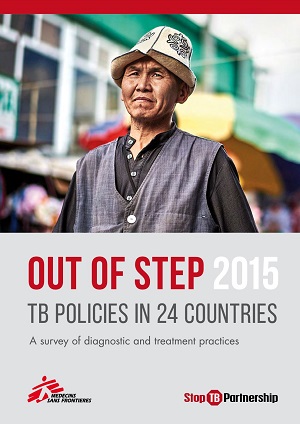 The Stop TB Partnership and Médecins Sans Frontières (MSF) today released Out of Step 2015 report, a 24-country survey of policies and practices used to guide the diagnosis and treatment of tuberculosis (TB). If countries are to meet Sustainable Development Goals target to End TB by 2030, aggressive efforts must start now to adopt and implement the 14 key policies and practices identified in the report, which are currently recommended by World Health Organization (WHO). In 2014 only one in four (26%) of the 480,000 people estimated to have developed multidrug-resistant TB (MDR-TB) was diagnosed, with 111,000 people (23%) started on treatment and less than half of them successfully treated...