Chenfeng Ke
Nanomachines are tiny molecules – more than 10,000 lined up side by side would be narrower than the diameter of a human hair – that can move when they receive an external stimulus. They can already deliver medication within a body and serve as computer memories at the microscopic level. But as machines go, they haven't been able to do much physical work – until now. My lab has used nano-sized building blocks to design a smart material that can perform work at a macroscopic scale, visible to the eye. A 3-D-printed lattice cube made out of polymer can lift 15 times its own weight – the equivalent of a human being lifting a car...
By Fraser Stoddart, Chenfeng Ke, and Xisen Hou | May 20, 2017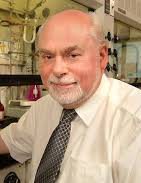 Counterfeiting gives brand owners major headaches. Companies lose sales and governments lose tax income. Resulting costs to businesses of counterfeit and pirated products add up to as much as US$650 billion a year worldwide, according to the International Chamber of Commerce. Scientists and engineers have developed many techniques in the fight against counterfeiters. You might have one example in your pocket right now – the banknotes we use almost every day are produced using special paper, with watermarks, holograms, glossy strips and many other security features...