Bayh-Dole Act
By Elliot Harmon | July 29, 2016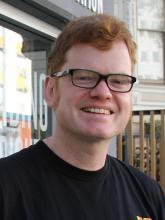 There's been a lot of talk lately about the state of publicly funded research. Many, including EFF, have long called on Congress to pass a law requiring that publicly funded research be made available to the public. With strong support for FASTR (the Fair Access to Science and Technology Research Act) in both parties, Vice-President Biden making open access a major component of his Cancer Moonshot initiative, and presumptive presidential nominee Hillary Clinton including access to research in her platform, signs are looking good that Congress will finally pass an open access mandate. It's just a matter of when...
Fran Quigley | TruthOut |
August 5, 2016
Don Reichmuth survived prostate cancer once before, back in 2007, so his physician was concerned when tests recently revealed the cancer had returned. Reichmuth's physician prescribed a drug called enzalutamide, marketed by the Japanese company Astellas Pharma, Inc. under the brand name Xtandi. But when the physician sent the prescription to the pharmacy, the managers of Reichmuth's insurance plan sent back an immediate refusal to approve it. Reichmuth, a retired teacher who lives in Washington State, was puzzled by the logic. Then he learned the price of the Xtandi prescription: over $9,700 each month...