José Andrés's riveting 'We Fed an Island' calls for a revolution in disaster relief
Tim Carman | Washington Post |
September 6, 2018
With "We Fed an Island," chef-and-restaurateur-turned-relief worker José Andrés doesn't just tell the story about how he and a fleet of volunteers cooked millions of meals for the Americans left adrift on Puerto Rico after Hurricane Maria. He exposes what he views as an outdated top-down, para-military-type model of disaster relief that proved woefully ineffective on an island knocked flat by the Category 4 hurricane...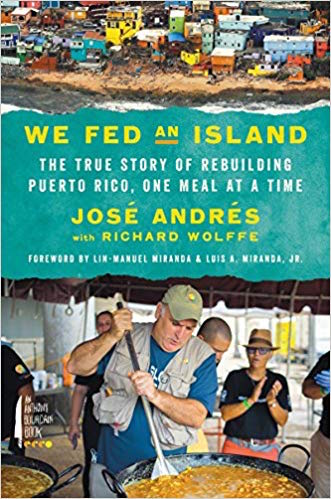 After dealing with so much red tape and mismanagement (remember the disastrous $156 million contract that FEMA awarded to a small, inexperienced company to prepare 30 million hot meals?), Andrés wants the government and nonprofit groups to rethink the way they handle food after a large-scale natural disaster. He wants them to drop the authoritarian, top-down style and embrace the chaos inherent in crisis. Work with available local resources, whether residents or idle restaurants and schools. Give people the authority and the means to help themselves. Stimulate the local economy.
"What we did was embrace complexity every single second," Andrés writes. "Not planning, not meeting, just improvising. The old school wants you to plan, but we needed to feed the people."

Andrés and World Central Kitchen have embraced complexity. An organization not originally designed as a food relief organization, WCK has, in the aftermath of Puerto Rico, sent chefs to Hawaii, Guatemala, Indonesia and other locales to feed locals in need. In fact, Andrés is donating 100 percent of his net proceeds from "We Fed an Island" to World Central Kitchen, which will help continue its work to feed those who can't feed themselves when disaster strikes...